Recognize the brightest faculty and staff at UTSA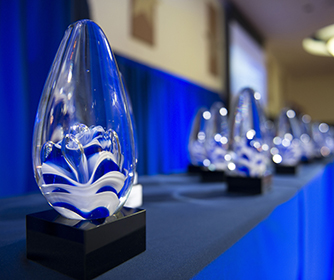 (Feb. 1, 2017) -- UTSA faculty and staff are the best around. Show them your appreciation. Nominate exceptional staff members and faculty for recognition at the University Excellence Awards. Nominations will be accepted through Feb. 28. Award recipients will be honored d on April 13, 2017.
"Our most valuable asset at UTSA is our people, and we are on our way to becoming a Tier One University thanks to the endless hours of dedication from our employees," said UTSA President Ricardo Romo. "It is important that we take the time to recognize and honor those who go beyond the call of duty."
Nominations will be accepted for:
The Rising Star Award
The Rising Star Award recognizes a new employee who has made significant contributions to his or her area, or to the university community.
The Leadership Award
The Leadership Award recognizes a supervisor who promotes UTSA mission and goals through actions and job performance.
The Team Spirit Award
The Team Spirit Award recognizes a group of staff employees who have demonstrated exceptional ability to foster collaboration, communication and cooperation among colleagues internal and/or external to their department.
The Extra Mile Award
The Extra Mile Award recognizes an individual who has performed at a level beyond normal job requirements that have resulted in furthering the department's and UTSA's goals and mission.
The Order of the Roadrunner Award
The Order of the Roadrunner Award is the highest honor that a UTSA staff member can receive for his or her dedication to the UTSA community.
The Richard S. Howe Excellence in Service to Undergraduate Students Award
The Richard S. Howe Excellence in Service to Undergraduate Students Award recognizes a faculty or staff member who has shown exemplary commitment towards UTSA undergraduates.
President's Distinguished Diversity Award
The President's Distinguished Diversity Award bestows the highest level of recognition to an individual or group that encourages the entire UTSA community to think and practice diversity and inclusion in more creative and collaborative ways.
The recipients of each award will be presented with a check for up to $1,000 and a plaque at the annual awards ceremony. The recipient of the Howe Award will be presented with a $2,000 check.
The awards ceremony will honor recipients of the University Excellence Awards and the President's Distinguished Achievement Awards for faculty members. Additionally, UTSA employees who have reached milestones in their length of service with the university and the UT System as well as retirees from the previous calendar year will be recognized.
-- Brian Ward
-------------------------------
To learn more about each of the awards or to submit a nomination, visit utsa.edu/excellence-awards.
Supervisors are asked to provide a printed copy of the nomination forms to employees who do not have access to a UTSA personal computer.