Roadrunners who've passed away to be remembered at special ceremony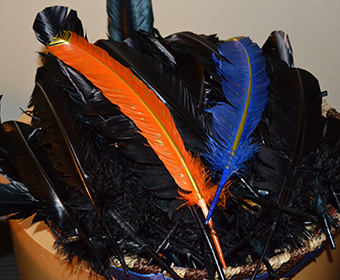 (Feb. 10, 2017) -- The University of Texas at San Antonio (UTSA) will pay respects to UTSA students, faculty, staff and alumni who passed away in 2016. The 9th Annual Roadrunner Remembrance will take place Saturday, March 4 at 1:30 p.m. in the University Center Retama Auditorium (UC 2.02.02) on the UTSA Main Campus. It is open to the entire UTSA community, particularly those who have lost a friend, loved one or colleague.
The memorial service will feature readings and music meant to honor the individuals' contributions to the development of UTSA. A feather is also placed in a nest as their name is read, symbolizing the legacy they have left on campus and among the community.
For more information on Roadrunner Remembrance, contact the Student Center for Community Engagement and Inclusion at (210) 458-4770.
2016 honorees:
Valentin Aguilar
Nathan Ahlert
Nettie Alex
Manuel Alonzo
Isidro Amador
Lavonne Andreas
Robert Bailey
Jacqueline Barrows
Emma Bass
Martha Batten
Roger Bessey
Eddie Blackmon
Lavonne Blackmon
Rena Boggs
Genoveva Bonugli
Carol Bressler
Tellecia Brown
Jennifer Burke
Deborah Burkett
Jesse Cabrera
Cheryl Caldwell
Carlos Canseco
Mario Canseco
Patricia Carmody
Teresa Carter
Mario Castilleja
Sandra Castilleja
Dominiq Castillo Porterfield
Gloria Charbonneau
Michael Chilcutt
Orlando Cisneros
Kay Cockrell-Dills
Xavier Coley
Stephen Conway
William Cox
Mary Damsgaard
Irene Dennis
John Dewitty
Jo Ann Dickinson
Crystal Dominguez
Nancy Dupuy
Donald Dykes
Harry Edwards
Melissa Eiring
Patricia Fahey
Angela Fernandez
Michelle Franks
Marvin Gallo
Ray Garcia
Sandra Gardner
Juan Garza
Brenda Gavin
Alice Gillette
Mary Gilson
Joseph Gonzales
Charles Graham
Stacia Gray
Mary Griffin
Frank Grossman
Sherman Guenther
Arturo Gutierrez
Jerry Haynes
Raquel Hernandez
Sylvia Hernandez
Beverly Hidy
Mary Hiller
Tamra Hoggatt
Margaret Honeck-Gold
Rita Houston
Angela Immer
Joseph Jaramillo
Nancy Jaros
Ruth Jennings
Johnathan Kaplan
Jonathan Kaplan
Joan Keate
John Koiner
Virgil Kyrish
Gloria Lamascus
Harold Lamascus
Larry Lamoureaux
David Lopez
Tamra Malixi
Gustavo Marinez
Estefana Martinez
Mary Martinez
Rosendo Martinez
Edward Maslyk
Patricia McDonald
Patric McNulla
Rodolfo Mendiola
Maria Mercado
Alexander Milam
Rebecca Mitchell
Rosalinda Molina
Annick Morris
Destiny Nichols
Charles Nunnelly
Robert Olszewski
Krishna Patel
Cheryl Plies
Stephen Plum
Gloria Pollock
Joan Powers
Severita Quintana
John Redmon
Samuel Robertson
Andrew Roca
Enrique Rodriguez
Jim Rodriguez
Ronald Rogers
Jennifer Rosanbalm
Delmer Ross
Howard Ross
Sharon Rothrock
Mark Russell
Michele Rymal
Gilbert Salazar
Margaret Salazar
Carlos Sanchez
Elizabeth Sanchez
William Savage
Robin Schulze
Jack Scott
Ronald Seaman
Victor Seely
Kathryn Seipp
John Smith
Steven Smith
Judith Spruce
Maryann Stafford
Richard Steele
James Steger
Leo Stevenson
Siobhan Swanson
Miroslav Synek
George Tang Pack
Ariel Tapscott
Bobby Tidwell
Nettie Trawick
Dorinda Tyson
Alice Urbanowicz
Georgia Varelas
Maria Vasquez
Jennifer Vela
Cynthia Wallace
Timothy Watson
Kayla Weed
Emma Wiggins
James Williams
Kiyana Wilson
Todd Woodcock
Sherwood Wu
Jacqueline Yankey
L J York
-------------------------------
Connect with UTSA online at Facebook, Twitter, Vimeo and Instagram.