UTSA professor Janakiram Seshu receives grant to study how Lyme disease bacteria survive in ticks and mammalian hosts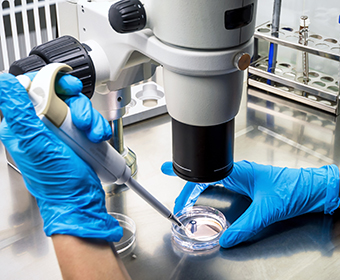 (Feb. 2, 2017) -- Janakiram Seshu, associate professor of biology and associate dean of The Graduate School at The University of Texas at San Antonio (UTSA), has received a $404,250 grant from the National Institute of Allergy and Infectious Disease to support his research to better understand and prevent the spread of Lyme disease.
"Dr. Seshu's top-tier efforts in infectious disease research are a source of immense pride for the UTSA College of Sciences," said George Perry, Semmes Foundation Distinguished University Chair in Neurobiology and dean of the UTSA College of Sciences. "His work will undoubtedly have a great impact on our knowledge of Lyme disease, as well as our efforts to fight it."
"As Lyme disease-carrying ticks increasingly spread to new areas of the country, we need to improve our understanding of the disease. Dr. Seshu's bacteria research will help us limit Lyme disease's spread and allow folks here in Texas and across the nation to live healthier lives," said U.S. Representative Joaquin Castro. "Thanks to UTSA's continued leadership, science thrives in San Antonio."
Seshu, a member of the South Texas Center for Emerging Infectious Diseases, is best known by his peers for his inventive approach to stop the spread of Lyme disease. His work, described in a recent paper, leverages medication that is normally used to lower cholesterol.
"As a member of The South Texas Center for Emerging Infectious Diseases (STCEID), Dr. Seshu's work is always interesting and innovative. With Lyme disease-carrying ticks now present in over half the country, his research and findings will provide new insights in the treatment against the particular bacterium," said Bernard Arulanandam, UTSA interim vice president for research.
The big question at the heart of Seshu's research is how the bacterium that causes Lyme disease, called Borrelia burgdorferi, is able to adapt to its immediate environment inside the tick vector or infected mammalian hosts. Mammalian bodies are very rich in nutrients and fatty acids, which make it very easy for the bacteria to thrive. The tick's body is very different. It's very poor in nutrients. Yet the bacterium adapts very quickly and allows the disease to spread.
To limit the transmission of the disease, Seshu's entire laboratory is focused on understanding how the Lyme disease-carrying bacterium can reinvent itself to live for so long in such a disagreeable environment.
"This award from the National Institute of Allergy and Infectious Disease is an exciting investment to tackle a major debilitating disease in the US," Seshu said. "I'm looking forward to advancing our understanding of this disease, so we can start finding better solutions."
UTSA is ranked among the top 400 universities in the world and among the top 100 in the nation, according to Times Higher Education.
-------------------------------
Learn more about the UTSA Department of Biology.
Learn more about UTSA South Texas Center for Emerging Infectious Diseases.
Learn more about UTSA Research.
Connect with UTSA online at Facebook, Twitter, YouTube, Instagram and LinkedIn.
Events
This UTSA student exhibit features the work of anthropology students who have examined the effects tourism has on local culture.
UTSA Institute of Texan Cultures, Hemisfair Campus
Students from grades 9 to 12 at Brooks Academy of Science and Engineering delved into their family histories and turned their family photos into artworks.
UTSA Institute of Texan Cultures, Hemisfair Campus
UTSA's John Nix invites the community to sing "Amazing Grace" and "We Shall Overcome" at 11 a.m. on Martin Luther King Jr. Day. The intent of this nationwide effort is to honor Dr. King's legacy and to spread a sense of community in the United States.    
Locations throughout the United States
The annual event features authentic foods, music, dance, martial arts, shopping, games and entertainment from China, to the Indian Sub-continent, and the island nations of the Pacific. The Festival features two stages, a martial arts demonstration area, children's hands on crafting area, anime activities, bonsai and ikebana displays, mahjong table and more.
UTSA Institute of Texan Cultures, Hemisfair Campus
Level up your career with a graduate business degree from the UTSA College of Business. Join us for this Open House to learn which of our 13 degree programs is right for you.
Business Building (BB 2.06.04), Main Campus
Basura Bash is a one-day, all-volunteer event to clean the San Antonio Watershed. For the past 24 years volunteers have cleaned area waterways. Join the UTSA community for the 25th Annual Basura Bash Waterways Cleanup.
Maverick Creek, near Brackenridge Lot 5, Main Campus
UTSA Day is an Open House and one of the best ways to see what it is like to be part of the UTSA Family! Schedule a visit the way you want, based on your interests and time. Learn more about the next steps on becoming a Roadrunner!
Various locations, Main Campus
Diploma Dash is a fast, certified 5k course for runners and a scenic route around Main Campus for walkers, strollers and dogs! There are individual and team prizes. Benefits UTSA students through the UTSA Alumni Association scholarship program.
UTSA Main Campus
---