UTSA professor Janakiram Seshu receives grant to study how Lyme disease bacteria survive in ticks and mammalian hosts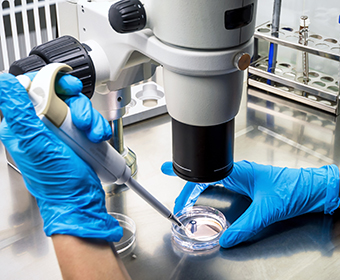 (Feb. 2, 2017) -- Janakiram Seshu, associate professor of biology and associate dean of The Graduate School at The University of Texas at San Antonio (UTSA), has received a $404,250 grant from the National Institute of Allergy and Infectious Disease to support his research to better understand and prevent the spread of Lyme disease.
"Dr. Seshu's top-tier efforts in infectious disease research are a source of immense pride for the UTSA College of Sciences," said George Perry, Semmes Foundation Distinguished University Chair in Neurobiology and dean of the UTSA College of Sciences. "His work will undoubtedly have a great impact on our knowledge of Lyme disease, as well as our efforts to fight it."
"As Lyme disease-carrying ticks increasingly spread to new areas of the country, we need to improve our understanding of the disease. Dr. Seshu's bacteria research will help us limit Lyme disease's spread and allow folks here in Texas and across the nation to live healthier lives," said U.S. Representative Joaquin Castro. "Thanks to UTSA's continued leadership, science thrives in San Antonio."
Seshu, a member of the South Texas Center for Emerging Infectious Diseases, is best known by his peers for his inventive approach to stop the spread of Lyme disease. His work, described in a recent paper, leverages medication that is normally used to lower cholesterol.
"As a member of The South Texas Center for Emerging Infectious Diseases (STCEID), Dr. Seshu's work is always interesting and innovative. With Lyme disease-carrying ticks now present in over half the country, his research and findings will provide new insights in the treatment against the particular bacterium," said Bernard Arulanandam, UTSA interim vice president for research.
The big question at the heart of Seshu's research is how the bacterium that causes Lyme disease, called Borrelia burgdorferi, is able to adapt to its immediate environment inside the tick vector or infected mammalian hosts. Mammalian bodies are very rich in nutrients and fatty acids, which make it very easy for the bacteria to thrive. The tick's body is very different. It's very poor in nutrients. Yet the bacterium adapts very quickly and allows the disease to spread.
To limit the transmission of the disease, Seshu's entire laboratory is focused on understanding how the Lyme disease-carrying bacterium can reinvent itself to live for so long in such a disagreeable environment.
"This award from the National Institute of Allergy and Infectious Disease is an exciting investment to tackle a major debilitating disease in the US," Seshu said. "I'm looking forward to advancing our understanding of this disease, so we can start finding better solutions."
UTSA is ranked among the top 400 universities in the world and among the top 100 in the nation, according to Times Higher Education.
-------------------------------
Learn more about the UTSA Department of Biology.
Learn more about UTSA South Texas Center for Emerging Infectious Diseases.
Learn more about UTSA Research.
Connect with UTSA online at Facebook, Twitter, YouTube, Instagram and LinkedIn.
Events
The events are a collaborative effort between student organizations, student led-groups, and campus departments.
Various locations, Main and Downtown Campuses
UTSA is a designated early voting site for the May 4 Joint, General and Special Election. Any registered Bexar County voter can skip the lines and cast a ballot at UTSA from Monday, April 22 to Tuesday, April 30.
H-E-B Student Union (HSU 1.002), Main Campus
In this UTSA 50th anniversary speaker series, Roger Enriquez, UTSA associate professor of criminal justice, explores how immigration past and present helps us understand its future.
Casa Hernán, 411 Cevallos St., San Antonio
An evening of fine food and drink inspired by UTSA's renowned Mexican Cookbook Collection. Proceeds from the event will support UTSA's Mexican Cookbook Collection.
Hotel Emma, 136 E Grayson St., San Antonio
Grab a friend and sign up to bowl with fellow Roadrunners and raise money for scholarships.
University Bowl, 12332 I-10 #10, San Antonio
The UTSA Department of Art and Art History present the work of emerging artists who are graduating from UTSA. Work ranges from traditional methods and materials, interdisciplinary and new media. Themes range from social and cultural critique to investigations that are challenging and exquisite explorations in creative form and image.  
Arts Building, Main Art Gallery (ART 2.03.04), Main Campus
UTSA's first spring Commencement ceremony begins at 10 a.m., May 18 and honors graduates from the College of Liberal and Fine Arts and University College.
Alamodome, 100 Montana St., San Antonio
Students who are earning a degree from the College of Architecture, Construction and Planning, College of Business and College of Engineering will cross the stage on May 18 at 4 p.m.
Alamodome, 100 Montana St., San Antonio
---