UTSA named Texas university with most accessible safety resources, according to CollegeStats.org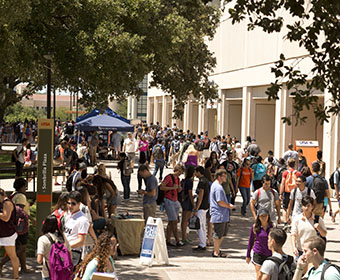 (May 4, 2017) -- CollegeStats.org, a nonprofit higher education evaluation service that provides statistics to help students make informed college choices, has ranked UTSA the leader in Texas and No. 20 in the nation for having the best campus safety resources, according to its 2016 College Campus Safety Rankings. The ranking measured the availability and accessibility of safety resources, emergency procedures, drug and alcohol policies, and crime statistics at the nation's largest universities.
To develop its ranking, Collegestats.org built a list of 113 colleges and universities based on enrollment and geography then located each institution's security information or campus police web page. It scored the accessibility of emergency phone numbers, safety tips, sexual assault procedures, and crime statistics and reports on each university's website. The ranking also assessed daily activity and engagement on each institution's social media presence, where safety information is often provided.
"There is nothing more important than creating a safe environment where our students, faculty staff and visitors can flourish," said Gerald Lewis, UTSA associate vice president of public safety and chief of police. "Particularly for prospective students trying to decide what college to attend, having safety information that's readily available and easy to understand is imperative. We are proud to see UTSA recognized for its leadership in safety preparedness and transparency."
In all, four Texas universities made the list, including UTSA (No. 20), the University of Houston (No. 27), the University of North Texas (No. 30) and UT-Austin (No. 33).
UTSA offers a variety of programs year around that encourage personal and community safety, such as Party on the Paseo, which allows students to enjoy Fiesta San Antonio in a safe, alcohol-free environment; Rowdy Wing Fling, an educational engagement program that encourages students to consider how alcohol can impair decision making; National Night Out, a family-friendly event focused on safety and the prevention of crime; and a residential curriculum for UTSA students living in on-campus housing.
-------------------------------
Learn how the UTSA Police Department is keeping you safe.
Review UTSA's Annual Security and Fire Safety Report.
See the entire 2016 College Campus Safety Page Rankings.
Connect with UTSA online at Facebook, Twitter, YouTube, Instagram and LinkedIn.
Events
Jenny Hsieh, professor and Semmes Foundation Chair in Cell Biology and director, UTSA Brain Health Consortium provides an engaging look into the world of gene editing.
South Texas Research Facility, 8403 Floyd Curl Dr., San Antonio
UTSA will offer science, engineering, architecture, sports, music, writing and language and culture camps for kids, teens and adults.  Register now.
Various locations, Main and Downtown Campuses
Future Roadrunners and families prepare for everything they need to know before the fall semester.
Various locations, Main and Downtown Campuses
Join us for cupcakes and lots of Roadrunner spirit as we celebrate the day UTSA was created by the Texas Legislature.
Sombrilla, Main Campus and Frio Street Commons, Downtown Campus
Join us as we celebrate this momentoud day in UTSA history by paying homage to the moment Governor Preston Smith signed the legislation creating UTSA exactly 50 years ago on June 5, 1969.
The Alamo, 300 Alamo Plaza, San Antonio
The State of Hand Stitch is a survey of eleven women artists in Texas working with thread and needle at a time when embroidery is increasingly recognized as a medium of choice by serious artists. Opening reception is June 5 at 5pm. Exhibit continues through Aug. 9.
Arts Building, Main Art Gallery (ART 2.03.04), Main Campus
For the 48th year, the ITC brings culture to life with music, dance, artisanship, food and hands-on experiences that connect Texans to their roots.
UTSA Institute of Texan Cultures, Hemisfair Campus
The fifth annual SAMHS and Universities Research Forum (SURF) is a regional event that highlights the latest research and discoveries of trainees, faculty, staff and students working to improve health outcomes.
H-E-B Student Union Ballroom (HSU 1.106),Main Campus
---