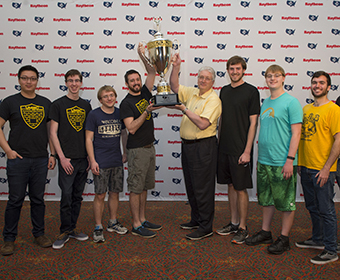 (July 14, 2017) -- The University of Texas at San Antonio (UTSA) Center for Infrastructure Assurance and Security (CIAS) received the 2017 Building Tomorrow's Workforce Award from the Department of Homeland Security Science and Technology Directorate, Cyber Security Division for their work on the National Collegiate Cyber Defense Competition (NCCDC). This award recognizes the top effort by an organization helping to develop the next generation of cybersecurity professionals.
The NCCDC, presented by Raytheon, is an annual cyber defense competition program with thousands of college students competing in 10 regions across the country. Competitors in the NCCDC are some of the most promising cybersecurity collegiate students in the nation. NCCDC alums have been hired by some of the nation's largest companies and organizations including Raytheon, Walmart, Amazon, Facebook, Uber, Boeing and the National Security Agency.
"Workforce development is critical to creating and growing the culture of cybersecurity," said Greg White, UTSA professor of computer science and director of the CIAS. "The NCCDC has grown to be a landmark competition for collegiate students. We are immensely thankful to the NCCDC staff, sponsors, volunteers, and competitors that work tirelessly each year to make this event a success."
The National Collegiate Cyber Defense Competition is a unique competition that is focused on the operational aspect of managing and protecting an existing "commercial" network infrastructure. Collegiate competitors face challenges similar to real-world situations as they manage, protect and defend their infrastructure from live 'Red Teams' that pose a threat to their defensive and operational strategies. Students competing at the national championship are highly sought after by companies across the country.
"We are thrilled to be recognized by the Department of Homeland Security Science and Technology Directorate," said Dwayne Williams, Director of the NCCDC. "Competitors in the CCDC are able to develop, hone, and demonstrate their skills and abilities. This unique platform coupled with the dedication of the competitors make these cybersecurity students some of the top recruits for industry, government, and academia." 
More than 230 colleges and universities participated in qualifying and regional competitions that led to the April 2017 National Championship. The 2017 NCCDC National Champions, The University of Maryland, Baltimore County won their first national championship to take home the prestigious NCCDC Alamo Cup.