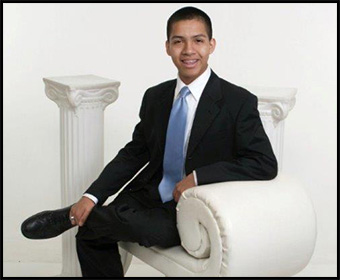 (Oct. 30, 2017) -- It was Christmas Eve 2013, when the lives of Laura and Gus Hernandez were turned upside down. At just 22 years-old, their son Eric, a junior at UTSA, was killed in a head on collision. In those early moments of grief, the couple decided to turn the tragedy into an opportunity to help others.

"I decided that I wanted to do something to make my son proud," said Laura. "I wanted something good to come out of this." 
Eric was the youngest child and only son born to Laura and Gus. He was a young man with many interests who played various musical instruments, such as six string bass guitar and the ukulele.  He was also a Mexican Folkloric dancer for 17 years.  Described as a kind-hearted and soft spoken young adult, Eric majored in mechanical engineering at UTSA.
Following their son's memorial service, the Hernandezes established the Eric Daniel Hernandez Memorial Scholarship at UTSA. With the scholarship, they hope to help engineering students achieve dreams while preserving the memory of their son.
Awarded annually in the amount of $1,500, the scholarship has already helped four students, including Alex Wright, a senior studying mechanical engineering.
"I met Laura and Gus at a UTSA scholarship event.  I could tell how much they loved helping me and other students complete our education," said Alex. "I only hope I can be worthy of the charity the family has shown me. I hope someday to be financially stable enough myself to do the same for a student in need."
To ensure the future of the scholarship, the duo hosts fundraising events to raise money.  Recently Laura decided to make a planned gift to the UTSA College of Engineering, by allocating a percentage of her life insurance to the scholarship.  This will provide enough gift funding to permanently endow the scholarship, ensuring the legacy of her son will live on even after she's gone.
"We're not rich, we're just regular people who want to help," said Laura. "I hope that when these students go on and become successful, that a little piece of Eric goes with them."