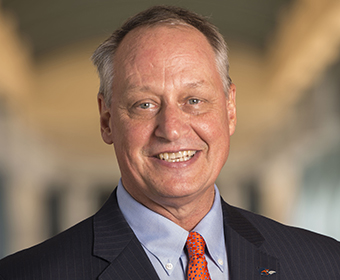 (Jan. 4, 2017) -- The University of Texas at San Antonio (UTSA) is planning a ceremony to formally celebrate the selection of its sixth president. The San Antonio community is invited to the inauguration of UTSA President Taylor Eighmy on Tuesday, March 20, 2018 at Convocation Center on the UTSA Main Campus.
The ceremony will begin at 2:30 p.m. with a prelude and processional, followed by the ceremony at 3 p.m. University of Texas System Chancellor William H. McRaven will deliver special remarks.
Eighmy began his service as the sixth president of UTSA on September 1, after serving in various higher education administration roles. His career includes positions as the chief research officer at the University of New Hampshire, Texas Tech University and, more recently, at the University of Tennessee, Knoxville. He has developed a strong track record of advancing top-tier research universities through strategic government collaborations, public-private partnerships and community engagement.
Shortly after beginning his role as UTSA President, Eighmy unveiled a long-term strategy to make UTSA San Antonio's university of the future and to help it earn National Research University Fund (NRUF) eligibility and R1 (highest research activity) classification from the Carnegie Commission. The vision leverages UTSA's strengths as a great multicultural discovery enterprise, an exemplary urban serving university of the future, a world-engaged institution and a university that fosters exceptional student experiences.