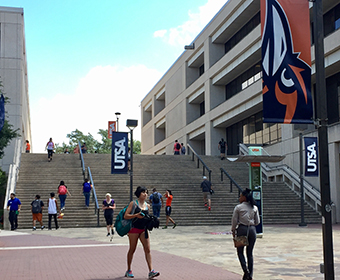 (March 13, 2018) – UTSA has received recognition by yet another source for helping students navigate the financial costs of college. A new study by LendEDU has named UTSA one of the top colleges in the Southwestern United States with the least student loan debt per borrower.   
The LendEDU report was assembled after analyzing more than 500 colleges and universities in Arizona, New Mexico, Oklahoma and Texas. UTSA is ranked No. 21 among public institutions in Texas, No. 28 overall in the state and No. 49 in the Southwest region for the least student loan debt per borrower.
The average debt per graduate was calculated by compiling the total debt at each university, divided by the number of bachelor degree recipients at each particular university. The average amount of student loan debt per graduate was then weighted by the number of graduates who had student debt to find the average debt per student loan borrower.
According to the LendEDU study, 64 percent of UTSA students graduate with debt at an average of $26,763. By contrast, 68 percent of 2015 bachelor degree recipients in the U.S. graduated with student loan debt at an average of $30,100 per borrower, according to The Institute for College Access & Success.
UTSA offers financial aid, grants and scholarships to make college affordable for its students, including merit-based, general and departmental scholarships, which do not have to be paid back. Approximately 70 percent of UTSA undergraduates receive financial aid including grants, scholarships, loans and/or work-study funds. UTSA has many resources to make the process to apply for assistance easier for current and prospective students. They are encouraged to contact the UTSA One Stop Enrollment Center to learn about opportunities, ask questions and get help.
"Earning a college degree is an invaluable investment," said Lisa Blazer, UTSA senior associate vice president for student affairs. "We want to give UTSA students every opportunity to achieve their academic goals, free from a lot of debt as they enter the workforce. We are honored that LendEDU recognized UTSA for its efforts to support student success through financial aid."