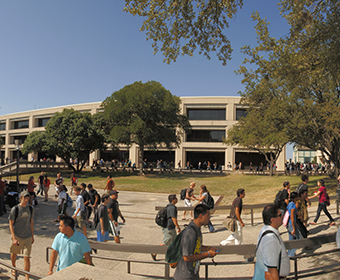 (Nov. 5, 2018) -- UTSA President Taylor Eighmy today announced changes to the leadership team within the UTSA Division of Student Affairs. Under the new organization, the currently combined positions of Dean of Students and Senior Associate Vice President for Student Affairs will be separated into two distinct roles. Both positions will report to Vice President for Student Affairs Sam Gonzales.
"The Dean of Students position is indispensable for all universities and becoming even more significant here at UTSA as we grow and our environment changes," said Eighmy in an email to faculty and staff. "Creating an independent Dean of Students role allows that individual to focus on fostering a culture of learning and engagement for our students, advancing our efforts to meet their needs and serve as their champion within a complex, sometimes divisive, world."  
LT Robinson, currently serving as Assistant Dean of Students, will step into the role of Interim Dean of Students. Robinson is a highly experienced student affairs professional who came to UTSA last year after serving at The University of Texas at Austin for 13 years. She will oversee Student Activities, the Student Leadership Center, the Student Center for Community Engagement and Inclusion, and Student Conduct and Community Standards. In addition, she will continue to serve as chair of UTSA's Campus Climate Team. She assumes these duties effective today.
Kevin Price will continue in the Senior Associate Vice President position, overseeing Housing and Residence Life, the Student Union, Campus Recreation and Campus Services (dining, vending, bookstore, and parking and transportation). UTSA's new housing initiatives will be a greater focus for Price in his newly defined role. 
The university will conduct a national search for a permanent Dean of Students in the new year, and more information regarding that search will be shared soon. The appointment of Robinson as Interim Dean will give UTSA the opportunity to thoroughly explore Student Affairs operations at peer institutions and consider best practices as the university evaluates the expansive and engaged role of the Dean of Students position.