2014 Regents' Outstanding Teaching Awards
Hazem Rashed-Ali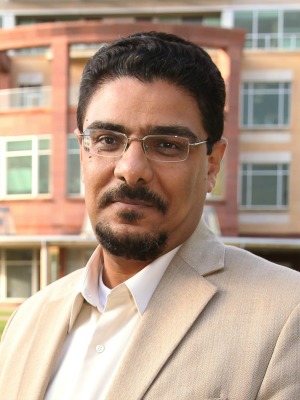 Associate Professor, Architecture
College of Architecture
As a pivotal figure who influences the lives of almost every UTSA College of Architecture student, Dr. Hazem Rashed-Ali continually challenges future generations of architects to increase their knowledge base in environmentally-responsive and sustainable architecture. Rashed-Ali views his teaching as critical to this high purpose, emphasizing that wiser use of limited natural resources is no longer just an option within the architecture and construction industries. It is necessary. Throughout his career, he has been motivated both by an awareness of the massive environmental problems facing our communities and the negative role that buildings play in this context. Rashed-Ali believes that architects can play a major role in alleviating these problems by changing the way our communities are designed.
"This change can only be achieved if architects go back to balancing art and science, quantity and quality," said Rashed-Ali. "As a teacher of architecture, I am uniquely placed to help facilitate that change by impacting new generations of architects in their early years, introducing them to the principles of environmentally sustainable architecture, and providing them with the methods, tools, and skills needed to integrate these principles into their design processes."
He has taught a variety of courses within the undergraduate curriculum since he joined UTSA in 2006, including design studios, required building technology lecture courses, and elective seminars, each requiring different approaches. The majority of Rashed-Ali's undergraduate teaching has been concentrated in two required building technology courses which have been used to successfully meet several student performance criteria in the accreditation of both the architecture and interior design degrees within the college.
These building technology courses have historically been considered by architecture students as among the most challenging and undesirable because of their highly technical and quantitatively oriented content. The two courses are also required for two other majors within the college, interior design and construction science and management, presenting the added challenge of instructing an interdisciplinary group of undergraduates. In spite of this, Rashed-Ali's student evaluations have been consistently higher than the college average.
"Under Dr. Rashed-Ali's direction, these courses have gone from being the least to the most desirable to take within the program, based on his innovations and teaching style," said Dr. Vincent Canizaro, Chair of the Department of Architecture. "He has developed his courses over time, in conjunction with colleagues, and has kept them up-to-date, which is difficult to do in the rapidly changing area of sustainability. He has also developed accompanying labs, which provide students the ability to solve problems, diagnose situations, and propose design solutions informed by best practices in environmental technology."
Among his students, Rashed-Ali is well-known for his ability to convey complex subject matter in multiple ways so the entire class can grasp the concepts. Former student Cherie Bartels recalls that, having learned the basics of energy consumption and passive systems, she was able to cut her electric bill in half after the first two weeks of Rashed-Ali's class. His enthusiasm, hands-on experimentation, patience, sense of humor, and real-world applications contribute greatly to the popularity of his courses. His willingness to assist both current and former students in their pursuit of academic, professional, and personal goals confirms his role as a true mentor.
"I can honestly say that what I have learned in his classes has helped me in my current life and profession," said former student Jeff Gill. "Currently, I return to his class notes about sustainable building, LEED, and other green technologies when designing structures so that they operate more efficiently. These class notes help me quickly problem solve issues that happen on the construction site and in design sessions." 
Rashed-Ali believes that teaching, research, and service should not be viewed separately, and that much more effective results can be achieved by incorporating multi-dimensional activities linking them. Excellent examples of this can be found in his elective seminars and design studios — semester project options are typically tied to a concurrent research project of his own that includes a service learning component. Students learn the value of research and service by directly participating with Rashed-Ali on real-world projects such as energy audits conducted for community entities like Artpace. In other projects, students developed retrofit proposals for the College of Architecture's Monterey Building and the UTSA Arts Building. Both were implemented in collaboration with the UTSA facilities department, allowing students to directly impact their immediate environment.
Rashed-Ali's commitment to research and scholarship was further emphasized by his being selected to serve as Associate Dean for Research and Graduate Studies in the College of Architecture, a position he has held since the summer of 2013. He served as Assistant Chair of the Department of Architecture during the 2012-2013 academic year, was the Graduate Advisor of Record for the Master of Architecture program at UTSA from 2009-2012, and helped students start the first United States Green Building Council (USGBC) Student Chapter at UTSA in 2008. Rashed-Ali was honored with the College of Architecture Faculty Outstanding Research/Scholarship Award consecutively in 2011 and 2012. He developed and taught seven new courses over the last five years and has served on the college's curriculum committee since 2007. Rashed-Ali recently developed a concentration for the college's M.S.  Architecture degree and a graduate certificate in sustainability, which is frequently cited as being among the greatest needs for recent graduates in the architectural profession.
"His keen analytical skills, encyclopedic knowledge of his field, integration of his own research, and demand for intellectual rigor in his courses are dazzling to his faculty colleagues," said Associate Professor Edward R. Burian. "I only wish we could have more faculty colleagues with his teaching skills in the College of Architecture."
Story by Nicole Chavez