May 26, 2021

UTSA School of Data Science receives $1 million from Frost Bank to support emerging research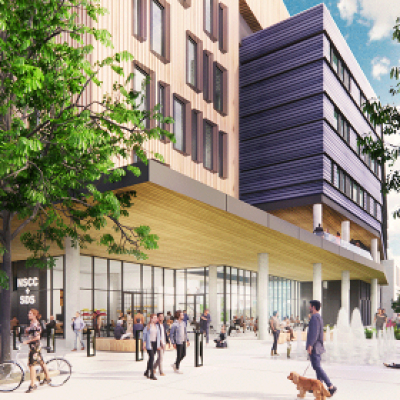 Frost Bank has committed $1 million to the UTSA School of Data Science (SDS). The gift establishes the Frost Excellence Fund endowment, which will support research-enhancing activities such as graduate research fellowships, undergraduate research activities and other research programs within the school.
The SDS is the first of its kind in Texas and is a key component in UTSA's mission to produce highly skilled professionals in data science and analytics, advancing economic development in San Antonio's urban core.
The SDS, currently under construction in the heart of San Antonio's tech corridor, will include nearly 86,000 square feet of classroom, laboratory and research space for the 6,500 data science students. UTSA's 70-plus faculty members in cybersecurity, cloud computing, data analytics and artificial intelligence will also be located there, enabling more frequent collaborations with government, industry and community partners when the building opens in summer 2022.
The partnership between UTSA and Frost Bank began in 1969, when the late Tom C. Frost, Jr. was an advocate for the university's establishment. He served as the chair of the We Are UTSA Capital Campaign, the Development Board Chairman and Chairman Emeritus from 1990 until his passing in 2018. His sons, Don and Pat Frost, have continued his legacy serving on the Development Board and the Roadrunner Athletic Foundation Board of Directors, respectively, along with current Frost Bank Chairman and CEO, Phil Green, who currently serves on the Be Bold Campaign Leadership Council and plays an active role in nurturing the relationship between Frost Bank and the university.
This work would not be possible without the support of our longstanding, valued partners including Phil Green and Frost Bank.