Hafsa Ali

UTSA Helps MBA Student Succeed and Pursue Dream Career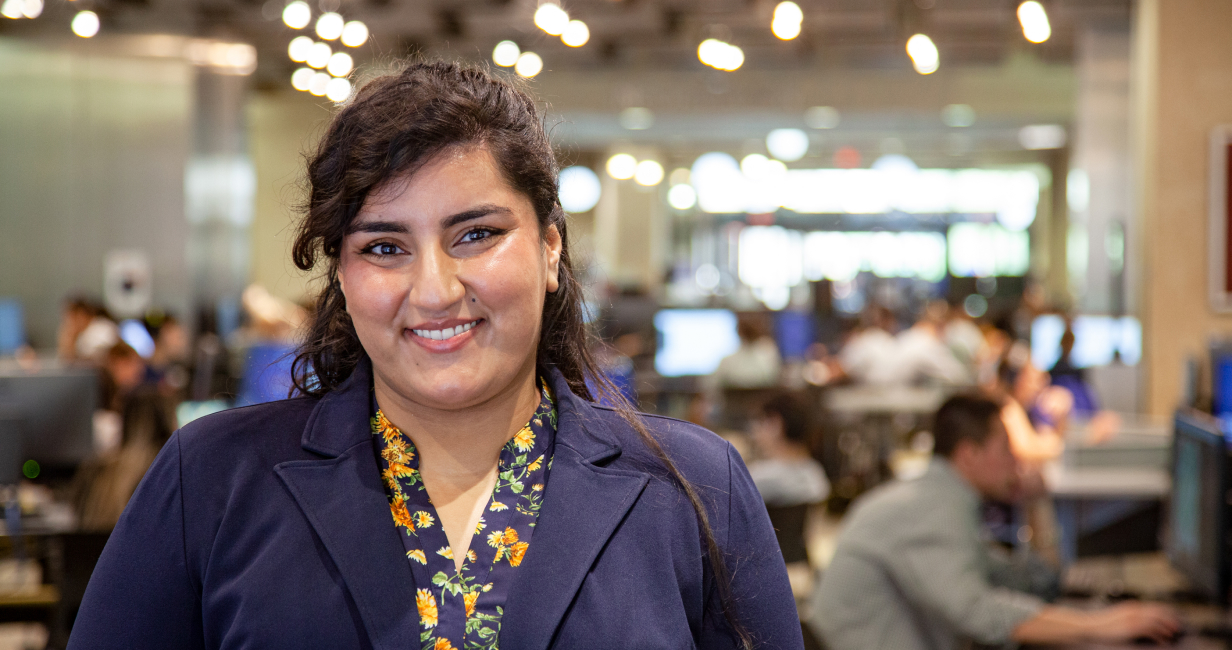 At the young age of six, Hafsa Ali '18 and her family packed their bags and moved from Pakistan to Queens, New York in pursuit of the American dream. Her father supported their family as a cab driver, taking passengers around the city to some of the nation's tallest buildings, always wondering what took place inside. After driving across the big apple for over a decade, her father decided the family needed a change of scenery. While Ali was in high school, they moved to Texas and made San Antonio their home.
With her family's closest relatives living halfway across the world, Ali decided to stay close to home after graduating high school and attend The University of Texas at San Antonio's Carlos Alvarez College of Business to receive her undergraduate degree in accounting. She is now pursuing her MBA with a graduate certificate in Technology Entrepreneurship and Management in the college with support from an Alumni Association Scholarship.
On top of being close to home, UTSA has a very family feel and 45% of students here are first-generation. So that really lured me in, knowing I would be around people that are experiencing the same thing as me.
Growing up, Ali focused her energy on how she could achieve success. As the oldest child in her family, she felt it was important to set a good example for her younger brother and make her family's sacrifice of leaving their home in Pakistan worthwhile. She made it a point to seek out avenues that would help her succeed and joined several on-campus organizations during her undergraduate years. Some of these included the Professional Businesswomen Society, UTSA Prism, and the Association of Latino Professionals in Finance and Accounting. She also took advantage of study abroad opportunities in the college and participated in a business immersion program in Spain for the 2017 spring semester.
After graduating in 2018, Ali utilized the resources provided by UTSA to secure a position in Risk Management. In this role, she was the direct manager of a team of 17 associates and learned about the importance of servant leadership and decision-making in the face of ambiguity.
Ultimately, Ali realized she was not in her ideal field and decided to return to UTSA to receive her master's degree and finally pursue a career she was passionate about. Receiving a scholarship from the Alumni Association affirmed her decision.
"I was really lucky to receive a scholarship. I thought I might have to keep my job on the side of classes," expressed Ali. "Getting into graduate school, I knew was my second opportunity to finally do what I wanted. What I've dreamed of doing."
During her first year of graduate school, Ali joined the National Black MBA Association, a non-profit organization dedicated to the enhancement and development of educational and economic empowerment for African American students and other minority groups. She applied for and was selected to attend their 2022 annual conference in Chicago where she solidified her professional goal of working in product management, leading her to receive an internship opportunity in Summer 2022 with a renowned international technology company.
At the end of the summer, Ali received a full-time job offer as a product manager with the company in New York City, which will begin after she graduates. Beginning in August 2023, you can find her working in one of the giant NYC buildings her father, who also followed his dreams and is now a real estate agent, once wondered about.
"It's just one of those very beautiful things that's happened in my life. Everything has come full circle and my dad was over the moon for me," Ali said. "The opportunities I got from UTSA are the reason that I'll be where I want to be in my life and that I'll be able to change the trajectory of my family's life— because it's not just about me. It's my little brother. It's my future kids. They now get to see me go from an immigrant child with no direction to a college graduate with my dream job."