News Bytes
Elnakat chosen to help manage San Antonio's growth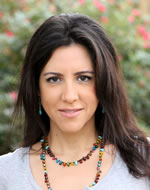 Long-time San Antonio residents can remember a time not so long ago when pastures and wildflowers filled what is now The University of Texas at San Antonio Texas Main Campus. The city's sprawl should not be surprising to locals who have seen the growth first-hand — San Antonio was the fastest-growing of the top 10 largest cities in the United States from 2000 to 2010. In preparation for future growth, the City of San Antonio has put together SA Tomorrow — a planning effort to guide the city toward smart, sustainable growth. Afamia Elnakat, associate professor of research at the UTSA Texas Sustainable Energy Research Institute, has been chosen by the city to serve as a chair on the SA Tomorrow steering committee.
"San Antonio is expected to receive over 1 million additional people by 2040," said Elnakat. "The SA Tomorrow approach is unique in that it includes feedback from everyone — citizens to local institutions — to address issues of importance to the entire community including transportation, jobs, housing, air and water quality, and energy efficiency."
A three-pronged planning effort, SA Tomorrow will encompass a Comprehensive Plan update, a Sustainability Plan, and a Multi-modal Transportation Plan, all focused on addressing the challenges and opportunities associated with adding one million people to San Antonio by 2040.
"UTSA is one of the partnering agencies that was invited to provide feedback to better align our growth master planning with the region," said Elnakat. "More people coming to San Antonio means potentially more students coming to UTSA. For UTSA, managing our growth and infrastructure is part of this growth opportunity."
---
Jamshidi leads UTSA portion of $5M grant
The United States Air Force has awarded a $5 million grant to fund a research team which will establish "Testing, Evaluation and Control of Heterogeneous Large-scale Autonomous Vehicles (TECHLAV)" as a Research Center of Excellence in Autonomy. This is a joint project between The University of Texas at San Antonio, North Carolina A&T State University, and the Southwestern Indian Polytechnic Institute. Dr. Mo Jamshidi, Lutcher Brown Endowed Distinguished Chaired Professor of Electrical and Computer Engineering at UTSA, will be leading UTSA's research, "Modeling, Analysis and Control of Autonomous Vehicles." The five-year project will expand the use of autonomous vehicles, such as drones, to a larger and more diverse scale.
---
Shipley recognized by OUR
The Office of Undergraduate Research (OUR) awarded Dr. Heather Shipley, associate professor and chair of the Department of Civil and Environmental Engineering, the annual Faculty Service to Undergraduate Research and Creative Inquiry Award at the spring Undergraduate Research and Creative Inquiry Showcase. She received this award for her ongoing commitment to undergraduate researchers at UTSA.
---
Browning selected as Purdue Distinguished Women Scholar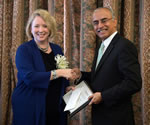 Dr. JoAnn Browning, dean of the College of Engineering at The University of Texas at San Antonio, has been selected as a Purdue University Distinguished Women Scholar for 2015-2016. The awards program, led by Purdue's Office of the Provost in partnership with Purdue University's Susan Bulkeley Butler Center for Leadership Excellence, honors alumnae who earned a Purdue doctorate and have made significant scholarly contributions to their academic communities.
---
ASEE-GSW Section Meeting hosted by UTSA
UTSA College of Engineering hosted the 2015-American Society for Engineering Education-Gulf Southwest (ASEEGSW) Section meeting earlier this spring at the historic Menger hotel in downtown San Antonio, Texas
"The theme of this year's conference, Challenges Facing Engineering Eduction, was particularly appropriate because at UTSA, the College of Engineering has experienced rapid growth in the past several years," said Ricardo Romo, UTSA president. "The college is expected to continue to grow to meet the growing needs for engineers in our communities."
The conference allows those engaged in the practice of educating future engineers to share ideas and best practices to improve the overall educational experience for students.
"I am confident that participation in this conference will help promote collaboration and innovation in engineering education," said JoAnn Browning, dean of the College of Engineering. "We aspire to better our profession with this conference by promoting excellence in instruction, research, public service, and practice, and it is an honor for the College of Engineering at UTSA to be hosting our colleagues from around the region."
---
Two COE faculty inducted to UTSA Academy of Distinguished Researchers
Sos Agaian, Peter T. Flawn Professor, Department of Electrical and Computer Engineering, and Rena Bizios, Peter T. Flawn Professor and Director of the Cellular and Tissue Engineering Laboratory, Department of Biomedical Engineering, have been inducted into The University of Texas at San Antonio's newly established Academy of Distinguished Researchers
The purposes of the Academy are to honor outstanding faculty who exemplify excellence in research; to foster a culture of exceptional research practices at UTSA; and to create a collective of faculty advocates who can serve as a resource for their colleagues.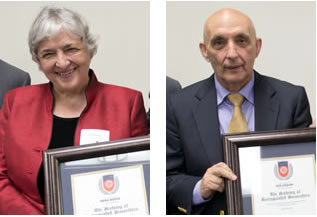 The Academy is intended to mirror the Academy of Distinguished Teaching Scholars, which was established in 2012 to uphold exceptional teaching practices. Similarly, promoting the very highest quality of research and scholarly activity supports the university's educational mission, said John H. Frederick, provost and vice president for academic affairs.
"Learning takes place at all levels of the university— from our first-year students to our senior faculty," said Frederick. "For many of our faculty, being actively engaged in discovery and innovation in their disciplines is part of what makes them such effective teachers."
The charter members were selected by the UTSA Research Advisory Board for the demonstrated academic impact of their research and scholarly activity. Academic impact might include publications in leading journals, citation counts and access counts, academic ranking, editorship or other involvement in peer-review journals, appointments to leadership positions in professional societies, conference invitations, and patents awarded, among other measures. New inductees will be chosen and recognized each year.
"UTSA has many, many outstanding researchers, and the inaugural class of the Academy of Distinguished Researchers exemplifies the outstanding research being conducted at the university," said C. Mauli Agrawal, vice president for research. "Each of the faculty who were selected as charter members are accomplished scholars who share the university's vision of being a premier public research university."
---
New Department Chairs Named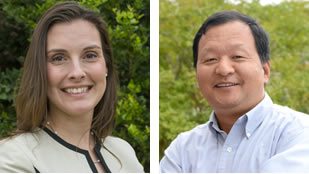 Heather Shipley and Hai-Chao Han
Heather Shipley, civil and environmental engineering associate professor and holder of the Burzik Professorship in Engineering Design, has been named the chair of the Department of Civil and Environmental Engineering.
Hai-Chao Han, mechanical engineering professor, has been named the Zachry Endowed Chair and department chair of the Department of Mechanical Engineering.
---
Wang elected to AIMBE's College of Fellows
Dr. Xiaodu Wang, professor in the Department of Mechanical Engineering, has been selected to be part of the American Institute for Medical and Biological Engineering's (AIMBE) College of Fellows.
"It is a great honor for me to be elected to the AIMBE College of Fellows, which is a prestigious recognition of my contribution in the field of biomedical engineering," said Wang. "I am so excited to join the group of great scientists and engineers in the endeavor of advancing the research and innovations in the field."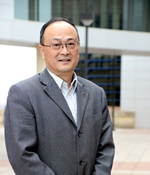 According to the AIMBE website, fellows are nominated each year by their peers and represent the top 2 percent of the medical and biological engineering community. They are considered the life-blood of AIMBE and work towards realizing AIMBE's vision to provide medical and biological engineering innovation for the benefit of humanity. Since AIMBE's inception, more than 1,500 esteemed individuals have been inducted to AIMBE's College of Fellows. AIMBE's College consists of clinicians, industry professionals, academics, and scientists who have distinguished themselves through their contributions in research, industrial practice and/or education. Fundamental to their achievements is the common goal of embracing innovation to improve the healthcare and safety of society.
"Dr. Wang has contributed extensively to published literature in the form of journal and conference papers, books and chapters in addition to making critical contributions to the biomechanics of bone by investigating the interaction of collagen and calcium phosphate mineral at the microstructural and untrastructural levels," said Dr. Mauli Agrawal, vice president for research at The University of Texas at San Antonio. "His mark in the medical and biological engineering field is indelible and he is highly worthy of recognition as an AIMBE Fellow."
---
IIE award to Chen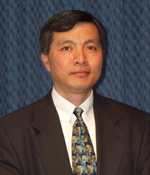 F. Frank Chen, Professor and Lutcher Brown Distinguished Chair in the Department of Mechanical Engineering, has been awarded the Institute of Industrial Engineers' Lean Teaching Award for 2015 offered by IIE's Lean Division for the remarkable work he has been doing to advance the knowledge and practice of lean concepts. The lean division's teaching award is given out annually to honor the services of a person/group of people who have developed curriculum and disseminated courses in the subject area.
---
National Geographic photographer visits with COE students
The College of Engineering was a co-sponsor in bringing National Geographic photographer Annie Griffiths to UTSA this spring. In addition to speaking to the entire campus community, Griffiths took the time to meet with a number of the College of Engineering's females students to discuss what an important impact female engineers can make in society. In addition to being one of the first female photographers at National Geographic, Griffiths is also the executive director of a non-profit organization that is helping to provide solutions to women in the developing world. Many of the projects involve bringing clean water and energy security to lift whole communities out of poverty.
---
UTSA engineers tapped to improve Marriott's energy efficiency
Marriott International, an industry leader in energy conservation efforts, is partnering with The University of Texas at San Antonio (UTSA) to help it reach its current environmental goal of reducing energy and water consumption (on an intensity basis) by 20 percent throughout its approximately 1,200 managed properties by 2020.
Over the last few decades the lodging industry has become increasingly focused on reducing its energy use and environmental impact. Hotels rely on energy to maintain their operations, and investing in new and innovative energy management tools is allowing many hotel companies to make significant reductions in energy and water use, operating costs and utility bills.
Through the new partnership, UTSA will help Marriott improve its hotels' ability to collect and analyze utility data in real-time and in turn make immediate energy-saving adjustments on-site.
Bing Dong, assistant professor of mechanical engineering and Texas Sustainable Energy Research Institute affiliated faculty member, has developed a proprietary tool and software to capture, model and analyze real-time occupant behavior and energy consumption data. The tool helps users quickly identify ways to increase energy efficiencies
Using these findings, Dong and his graduate student team will evaluate Marriott's current energy systems and processes and recommend a method to capture data from multiple sources into a single database that provides timely and detailed performance feedback through visualization. They will also create a communication strategy to help motivate hotel employees to conserve energy. UTSA professor of architecture Taeg Nishimoto is also involved in the project.
---
Pack speaks at international drone competition
Daniel Pack, professor and chair of the Department of Electrical and Computer Engineering, recently gave a speech on the topic of cooperative unmanned aerial vehicles to an international audience at the 2015 Drones for Good Competition in Dubai, United Arab Emirates. In addition to being plenary speaker for the event, Pack served as a judge for the competition where more than 800 teams from all around the world competed for a $1M prize.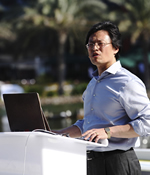 "The judging experience was wonderful," said Pack. "We evaluated technical, presentation, and demonstration areas for each team submission. There were judges for three different categories (governmental, national, and international) and I served as one of five judges for the governmental category."
There were more than 800 team submissions, but event organizers conducted a set of evaluations before the event so there were total of more than 30 teams who actually presented and competed at the 2015 International Competition. According to dronesforgood.ae, the competition is dedicated to rewarding the most promising prototypes of future services that may benefit humanity at large. The goal of the international competition is to highlight the most advanced research into UAVs and drones and accelerate their application in humanitarian, development, and public service applications.
---
Castro Cybersecurity Amendment elevates level of university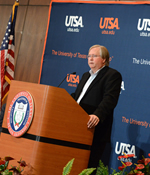 Congressman Joaquin Castro (TX-20) introduced two cybersecurity amendments this spring that both unanimously passed the House of Representatives. The first amendment elevates the profile of The University of Texas at San Antonio (UTSA) and highlights the cybersecurity work being done there. The second amendment makes self-assessment tools available to small and medium-sized businesses for determining their cybersecurity readiness.
"The city of San Antonio and UTSA are national cybersecurity leaders," said Rep. Castro. "These amendments elevate the great work being done in our city and help communities and businesses across the country strengthen their cyber defenses. I'm proud of San Antonio's growing role in keeping America's digital assets safe."
Rep. Castro's first amendment gives the Secretary of the Department of Homeland Security (DHS) authority to formally establish the UTSA-led National Cybersecurity Preparedness Consortium within DHS. The consortium will address unique issues related to cybersecurity on the state and local level, serving as the lead entity within DHS for cybersecurity training and technical assistance for states and local first responders and officials.
---
UTSA cyber defense team goes to nationals
The University of Texas at San Antonio Collegiate Cyber Defense Competition team won the Southwest Regional and advanced to the National Collegiate Cyber Defense Competition (NCCDC), which took place this spring in San Antonio.
"Electrical engineering student Mark Pena was extremely successful in securing our linux machines, bringing in his own scripts to automate fixes to known vulnerabilities and configuration of security toolkits," said Nicole Beebe, team faculty advisor and Associate Professor of Information Systems and Cyber Security. "No Linux machines were ever compromised."
The teams were tasked with protecting computer networks against the same type of real-world cyber threats that are infiltrating major retailers, corporations, social networks and financial institutions today. Students from more than 180 colleges and universities from across the country are competing in various regional tournaments. The UTSA team was one of the ten regional winners who advanced to compete in the two-day national competition.
"As the presenting sponsor of the National Collegiate Cyber Defense Competition, Raytheon is very committed to helping our country meaningfully increase the number of young men and women who can protect the vital computer networks that our government agencies, private sector companies and frankly all organizations depend upon so much," said Dave Wajsgras, president of Raytheon Intelligence, Information and Services. "Our partnership in support of NCCDC includes providing our own cyber security professionals and technology to give the students real practical experience."
Wajsgras added, "The need for the cyber security talent is real and growing based upon Raytheon's own research which, indicates that roughly two-thirds of commercial and government organizations need more knowledgeable and experienced professionals to protect their networks."
---