Our Commitment
UTSA is proud to have been entrusted with stewardship of the Institute of Texan Cultures and its Hemisfair property for the state of Texas since 1973. It has the only museum of its kind in the state entirely devoted to preserving the rich cultural history of Texas and Texans.
Since it opened during the 1968 World's Fair, ITC has given voice to the people who call Texas home by providing insight into their past, present and future and by showcasing the uniqueness and beauty of the many cultures that comprise Texas. The international event coincided with the 250 th anniversary of the founding of San Antonio in 1718 and led to the growth of the Alamo City's downtown core, the expansion of its River Walk and a focus on becoming a world tourism destination.
Through compelling programs, unique learning and research opportunities, and one-of-a-kind archives, the ITC continues to provide distinctive experiences that encourage a greater awareness of and appreciation for Texas' cultural heritage.
By sharing the state's rich mosaic of cultures and their impact on us as Texans, the ITC is inspiring the next generation of cultural enthusiasts—K-12 students across Texas—and supporting their teachers with valuable educational resources.
We are committed to ensuring ITC programming, exhibits and special collections are preserved, expanded and available to Texans and lifelong learners everywhere.
San Antonio is arguably the birthplace of the Texan identity, and quite fittingly, the Institute of Texan Cultures is entrusted with chronicling and celebrating our state's diverse cultural traditions. UTSA and San Antonio have a tremendous opportunity to shape the way Texas preserves and shares the story of its rich cultural history. We are energized by the opportunity to collaborate with the community to clearly define a long-term vision and capitalize on all the assets of the institute and its museum to create engaging new experiences.
As we reflect on nearly 50 years of stewardship, UTSA recognizes and shares in honoring the significant community impact of the ITC and Texas Pavilion. Throughout the evaluative process, we will focus on ensuring a thorough and transparent process that reflects our dedication and responsibility to identifying the best path forward.
Dr. Kimberly Andrews Espy
Chair, ITC Centennial 2068
ITC Centennial 2068: Community Stakeholder Visioning is led by Kimberly Andrews Espy, who has served as UTSA Provost and Senior Vice President for Academic Affairs since June 2018. With more than two decades of higher education experience, she has earned a national reputation for advancing institutional, academic and student success; promoting faculty and staff development; and deepening university-community engagement — a key element of ITC Centennial 2068. Immediately prior to joining UTSA, Dr. Espy was senior vice president for research at the University of Arizona, where she oversaw three university museums in addition to a broad portfolio of centers and institutes.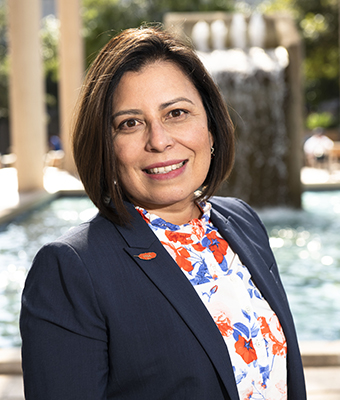 Veronica Salazar
Executive Lead, ITC Centennial 2068: Evaluative Process
ITC Centennial 2068: Evaluative Process is led by Veronica Salazar, who serves as UTSA's Chief Financial Officer and Senior Vice President for Business Affairs. With over 20 years of experience in higher education, she provides leadership in finance, real estate, administration, urban development, and strategic business initiatives. Ms. Salazar provides oversight of the university's financial resources and helps advance UTSA's vision to become a student success exemplar, nationally competitive research university and Hispanic-thriving institution. She works to ensure the success of ongoing initiatives, including the Campus Master Plan and Downtown Campus expansion. Previously, Ms. Salazar served as the Vice Chancellor and Chief Financial Officer at the University of California, Merced, where she made significant contributions to the Merced 2020 Project.