About
Join UTSA in honoring LGBTQIA+ History Month October 1st-31st. LGBTQIA+ history month recognizes the history and contributions of Lesbian, Gay, Bisexual, Transgender, Intersex, Asexual and Queer people. In 1994, high school teachers advocated for a month dedicated to honoring and celebrating LGBTQIA+ history to help bring awareness to and celebration of the many contributions and voices of the LGBTQIA+ community. UTSA is hosting a variety of events during the month to showcase and honor the rich history and diversity of the LGBTQIA+ community. Please join us in celebrating and learning this October 2022.
Get Involved
My LGBTQIA+ Story - Follow @UTSA_MSCEJ on social media to hear stories from members of the LGBTQIA+ community at UTSA in honor of National Coming Out Day and LGBTQIA+ History Month.
Join Pride Faculty and Staff Association
Join a Student Organization
Pride Faculty and Staff Association Student Mentorship
Apply at PrideFSA.org/mentorship  
Pride FSA is excited to announce our Student Mentorship Program! We have 16 mentors, consisting of UTSA faculty and staff, all specializing in different areas of interest. Some of these areas include being LGBTQIA+ in the workplace, leadership, public speaking, coming out, travel, academic success, professional development, and more!
2022 Keynote Speaker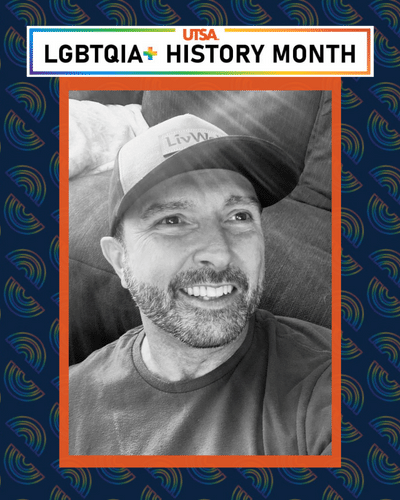 Creating a SAFE Space and How Language Supports Engagement
Greg Casillas, from Thrive Youth Center, will be the LGBTQIA+ History Month Speaker on Tuesday, October 25 at 4:30 pm in the Student Union Willow Room (SU 2.02.12). The goal of this chat w to assist individuals, in whatever role they may have, to reflect on their current interactions and programs, and assess whether a SAFE environment exists in their space. The chat may also help staff and faculty identify ways to make their programs more inclusive to all, including adding images like the LGBTQ+ flag to flyers/websites and posters throughout offices. This chat will identify how previous lived experiences impact LGBTQ+ students, staff and faculty. Identify ways supportive language can be added or changed to encourage inclusiveness and things to avoid saying while identifying alternative ways to communicate. 
Special thanks to the following groups for coming together to host this keynote event: PRIDE FSA, Inclusive Excellence, Multicultural Student Center for Equity and Justice, PRISM, and The Queerspiracy. 
Nominate a Student
Outstanding LGBTQIA+ Leader Award
The Outstanding LGBTQIA+ Student Leadership award will honor a UTSA student who has shown strong leadership skills and service to the LGBTQIA+ community.
Application Closes: October 17, 2022 - 8:00am
Students can self-nominate or be nominated. The Award will be presented at the end of LGBTQIA+ History Month (October 2022).