About
Join UTSA in honoring LGBTQIA+ History Month October 1st-31st. LGBTQIA+ history month recognizes the history and contributions of Lesbian, Gay, Bisexual, Transgender, Intersex, Asexual and Queer people. In 1994, high school teachers advocated for a month dedicated to honoring and celebrating LGBTQIA+ history to help bring awareness to and celebration of the many contributions and voices of the LGBTQIA+ community. UTSA is hosting a variety of events during the month to showcase and honor the rich history and diversity of the LGBTQIA+ community. Please join us in celebrating and learning this October 2021.
Get Involved
My LGBTQIA+ Story - Follow @UTSA_MSCEJ on social media to hear stories from members of the LGBTQIA+ community at UTSA in honor of National Coming Out Day and LGBTQIA+ History Month.
Join Pride Faculty and Staff Association
Join a Student Organization
Pride Faculty and Staff Association Student Mentorship
Apply at PrideFSA.org/mentorship  
Pride FSA is excited to announce our Student Mentorship Program! We have 16 mentors, consisting of UTSA faculty and staff, all specializing in different areas of interest. Some of these areas include being LGBTQIA+ in the workplace, leadership, public speaking, coming out, travel, academic success, professional development, and more!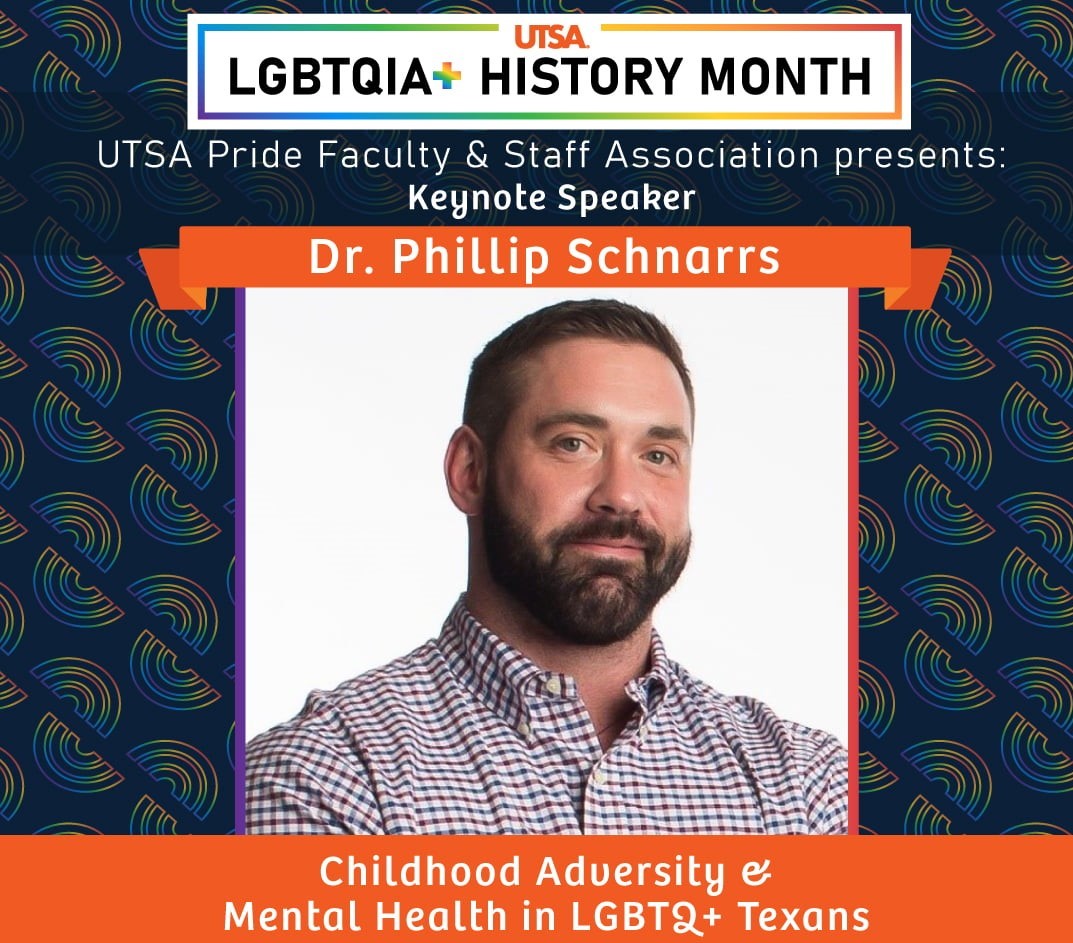 Dr. Phillip W. Schnarrs is the founder of the UTSA Pride Faculty Staff Association. He is an Associate Professor of Population Health at The University of Texas Dell Medical School and was a 2017 to 2020 Interdisciplinary Research Leaders Fellow with the Robert Wood Johnson Foundation. He is also the Director of the Texas People-centered Research, Intervention Design, and Evaluation in Health Collaborative (Texas PRIDE Health Collaborative).
Trained as a community-based participatory researcher, his work centers on the needs and wants of LGBTQIA+ communities across Texas to find solutions that improve the health and wellbeing of all Texans. His presentation will be on Childhood Adversity and Mental Health in LGBTQ+ Texans.
Nominate a Student
Outstanding LGBTQIA+ Leader Award
The Outstanding LGBTQIA+ Student Leadership award will honor a UTSA student who has shown strong leadership skills and service towards the LGBTQIA+ community.
Submit Nominations to: Multicultural Student Center for Equity & Justice (MSCEJ)
Deadline: October 18, 2021 - 8:00am
Students can self-nominate or be nominated. The Award will be presented at the end of LGBTQIA+ History Month (October 2021).