Once mocked, UTSA graduation rate is soaring
September 28, 2018
San Antonio Express News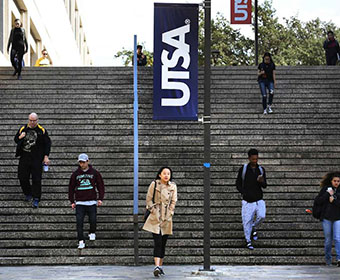 The University of Texas at San Antonio increased its graduation rates once again in 2018, officials announced, crediting the school's focus on counseling first-generation students for years of improvement.
The steady upward trend in the university's ability to graduate its freshmen within four, five or six years of their arrival was welcomed by business leaders who have warned that the supply of qualified employees is not meeting their current demand.
Some of the kudos came from a prominent former critic. In 2014, Bill Hammond was president of the Texas Association of Business when it called attention to UTSA's six-year graduation rate — then 27 percent — on a billboard next to Interstate 35 in Austin, asking if it was "ship shape."
Figures released Friday by the university's Office of Institutional Research show the 2018 six-year rate had reached 39.6 percent.
"So obviously the billboards work," Hammond quipped when told of the new numbers. "I think bringing light to the situation is always helpful."
He called the new rate a dramatic improvement over where UTSA was "just a few short years ago" and added, "I congratulate them on their efforts and I hope they continue to improve over time."
The latest four-year graduation rate, though still low at just over 25 percent, had more than doubled since 2014, when it was 12.7 percent.
Richard Valdez, chief technology officer of the San Antonio-based information technology firm IPSecure, said the company is putting UTSA students to work in its research and development section as interns. Graduates have gone on to work in data analytics, engineering, cyber security and logistics, he said.
"Everything you touch nowadays is technology driven. We don't have enough (employees). We can't keep up," Valdez said.