Veterans Day Message
November 9, 2018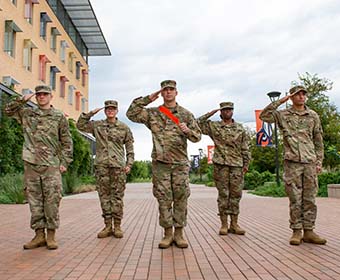 Dear Roadrunners Veterans,

I wanted to take a moment this Veterans Day to acknowledge your enduring contributions to our country.

It is because of the sacrifices made by men and women like you that we enjoy the freedom to pursue our passions, beliefs and ideas. I am very proud of you and exceedingly proud of our institution's long serving commitment to our military veterans and their families.
In fact, soon we will be establishing our new Center for Military Affiliated Students which will serve as a one stop shop to meet the many needs of our military student community. Learn more about our efforts on our new Military Campus USA website.
Your input regarding how we can better serve veterans here at UTSA is always welcome and appreciated. Feel free to contact our Office of Veteran and Military Affairs directly at veterans@utsa.edu with any thoughts you may have on how we can cultivate a supportive campus environment.
As the largest public university in Military City USA, I believe UTSA has a unique responsibility to be a champion for veterans as they pursue their educational and professional dreams. Your presence on our campus enriches our community in a multitude of ways, and I am grateful for all you do to serve as role models for our Roadrunner community.  
Thank you for all you have done and continue to do for our university and our country, and Happy Veterans Day!

With appreciation,
Taylor Eighmy