Bold Champions: A New Era for UTSA Athletics
December 1, 2021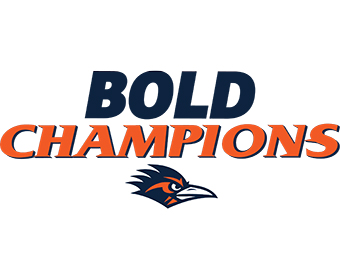 The University of Texas at San Antonio Department of Intercollegiate Athletics today launched Bold Champions: A New Era for UTSA Athletics, a $70 million capital campaign to transform San Antonio into a destination for the nation's most competitive Division I student-athletes.
Already, $30.5 million in commitments have been received to advance the campaign, nearly half of its fundraising goals.
The capital campaign comes on the heels of several recent milestones, including the opening of the Roadrunner Athletics Center of Excellence; the most successful football season in university history; a historic women's soccer season; and the university's recent invitation to join the American Athletic Conference.
"This is a historic moment for UTSA Athletics. The success of our athletics enterprise is generating unprecedented national attention and creating a once-in-a-lifetime opportunity to bring together our supporters and create a lasting legacy for UTSA student-athletes," said UTSA Vice President for Intercollegiate Athletics Lisa Campos. "The Bold Champions campaign will create opportunities for supporters to make investments that transform San Antonio and UTSA into a destination for champions from across Texas and the nation." 
UTSA President Taylor Eighmy added, "Our student-athletes have shown the nation that Roadrunners persevere to achieve excellence. The Bold Champions campaign will enable San Antonians to support these tremendous competitors and to further build the UTSA brand, driven by excellence, integrity and community." 
UTSA will dedicate funds raised through the Bold Champions campaign to several capital projects that advance the UTSA Athletics Master Plan. The plan ultimately calls for the creation of a new Athletics District in the southwest quadrant of the UTSA Main Campus, structured around an extension of the existing Paseo network.
These new infrastructure projects include:
An 82,350-square-foot Roadrunner Athletics Center of Excellence Practice Pavilion that will protect student-athletes from inclement weather in Texas, which is known for temperature extremes and record heat in the summer months. The facility features an open-air, pre-engineered structure with a standing seam metal roof.


The Park West Field House, a major addition to the existing Park West Track and Soccer Field at the UTSA Park West Campus. The 14,325-square-foot facility will offer a state-of-the-art training room, locker rooms and meeting areas.


The Basketball and Volleyball Training Facility, an estimated 49,774-square-foot facility, featuring two full size NCAA practice courts and NCAA Division I real hardwood performance courts striped for both basketball and volleyball training. It will include a weight room, athletic training room, hydrotherapy room, locker rooms and coaches' offices.
UTSA will also use a portion of dollars raised through the Bold Champions campaign to continue supporting the Roadrunner Athletics Center of Excellence, a $40.4 million state-of-the-art athletic training facility. The center serves as a central hub for UTSA Athletics and is promoting the academic success, health, wellness and performance of the university's student-athletes. It was financed through construction loans guaranteed by the Roadrunner Foundation, a private group of UTSA Athletics donors and friends.
"The Roadrunner Foundation is fully committed to the important mission of UTSA Athletics. We urge San Antonio and others in our community to join us in making this campaign a success by making a bold investment in our student-athletes, our university and our region," said Gene Dawson, president of the Roadrunner Foundation. "Our student-athletes have demonstrated their desire to build athletics programs of the highest quality in San Antonio. They deserve our unwavering support."
Additionally, the Bold Champions campaign will provide continued support for the Roadrunner Athletic Fund, which directly enhances the student-athlete experience through programmatic support and scholarship funds.
This funding is critical for UTSA student-athletes, including UTSA softball player Riley Grunberg. "Better facilities lead to better opportunity, and that opportunity will lead our athletes to reach new heights and even more amazing achievements," she said.
Focused on excellence, integrity and unity, UTSA Athletics transforms lives as San Antonio's nationally recognized NCAA Division I program by developing champions in the classroom, in competition and in life. It also serves as an integral part of the undergraduate student experience by enhancing the visibility of the university and engaging the community.
"UTSA Athletics is a tremendous ambassador for San Antonio and we have an incredible opportunity to position our student-athletes for continued success while further uniting our community," said Karl Miller Lugo, vice president for development and alumni relations at UTSA. "I am grateful to the Roadrunner Foundation, the City of San Antonio, Bexar County and to our generous friends and fans who have championed this campaign." 
⇒ Join the campaign and be a Bold Champion.