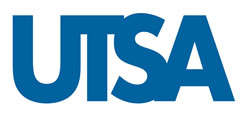 Two versions of official UTSA logo, trademark
Web site details UTSA style, logo usage rules
(Dec. 5, 2003)--Not sure whether it's OK to send out office holiday party invitations with Rowdy decked out in a Santa suit? Need to know the proper way to refer to buildings on campus for that new brochure? Is "university" capitalized?
Live since late August, the UTSA Identity Guidelines Web site has these answers, and more. The link is also at the bottom of the UTSA home page and every UTSA Today page.
The site offers university policies regarding publications, logos, trademarks and editorial style. There's more. Ready to develop a departmental Web site or brochure on a budget? The identity site has publications advice and easy-to-use templates.
"It's a great place to visit if you're going to build a Web page," said Joe McBride, UTSA webmaster. "It won't walk you through the process of building a Web site, but it will explain how Web sites at UTSA should look."
According to the site, the new UTSA Identity Program seeks to ensure that visual communications, print or electronic, convey a cohesive image. In an effort to maintain consistency throughout the university, the guide outlines the standards designed to promote UTSA and its colleges and programs to all audiences on and off our campuses.
The guidelines apply to brochures, flyers, posters, letterhead, business cards, advertising and newsletters, as well as official university Web pages and presentations.
Whether it's a Web page, brochure or PowerPoint presentation, the goal is the same -- and its name is branding.
"We would much prefer that they use our look and feel just so we can establish UTSA as a household name, a brand name," said Craig Evans, director of Internet development. "We're not coming down and telling people you have to use this [exact template], but if you're going to do your own design, make sure you have these common design elements in there."
More than anything, the site is meant to be a handy resource for faculty and staff when looking for answers to a multitude of questions. Now when someone on campus needs the answer to an editorial, Web design, or logo question, the identity site is available, navigable and knowledgeable.
McBride points to the editorial style guide as a prime example of when to use the site, noting the "style guide is real handy. It specifies how you refer to things like 'ITC,' and 'Downtown Campus.'"
"We have resources," added Evans. "You want to use the UTSA logo? We have optimized logos on there. We're putting PowerPoint templates online."
With all its resources and easy accessibility, the identity site plays a large role in unifying the Tri-Campus community. The site should keep everyone on the same page when it comes to university guidelines.
So, the next time the university tag line starts looking good in snow-capped letters, check the identity site.