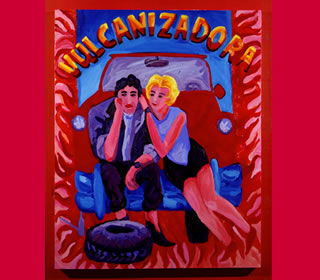 Satellite Space exhibits colorful art by UTSA alumna Haydee Victoria Suescum
(Feb. 16, 2004)--The UTSA Satellite Space is exhibiting oil-on-canvas paintings by local artist Haydee Victoria Suescum through Feb. 29. Gallery hours are noon-6 p.m., Friday-Sunday, or by appointment. A UTSA alumna, Suescum earned a master of fine arts degree in 1990.
The Satellite Space is part of the Blue Star Contemporary Art Center, South Alamo and Probandt Streets.
The show includes three pieces that were exhibited in the 50th Venice Biennale 2003 at the Italo Latin American Institute (IILA) Pavillion and a commemorative print, "ZAS," (Spanish slang for "super-fast") published by San Antonio's Hare and Hound Press, which is owned by UTSA alumna Janet Flohr. The commemorative print was published by UTSA alumnus Gary Nichols.
Pictured is "Vulcanizadora," an oil on canvas with inflatable vinyl picture frame.
A San Antonio resident since 1988 and a San Antonio College (SAC) faculty member since 1992, Suescum served six years on the board of directors of the Blue Star Contemporary Art Center.
She has been a speaker on art and folklore and Latin American women's art at events organized by the UTSA Division of Bicultural-Bilingual Studies and the SAC Women's History Week committee. She was a Hannah Lecturer for a Texas Association of Art Schools (TASA) conference.
Her paintings have been exhibited in Colombia, Cuba, Dominican Republic, Ecuador, Panama, Peru and the United States (San Antonio, New York City, Miami, Fort Worth, Boston and Berkeley).
Suescum's artwork translates and transforms hand-painted signage encountered in Spanish-speaking areas of the Americas including San Antonio. The compositions incorporate humor to contrast dreams of material wealth and high technology using a low-tech painting style.
Absurd changes in scale, bright colors and fun characterize all the compositions. Her works incorporate objects such as bicycle parts, colorful inflatable tubes, vinyl, lights, puffing steam irons, electric fans, ribbons and dishes.
For more information, contact Kevin Rutherford, UTSA Satellite Space, at 210-663-1529.