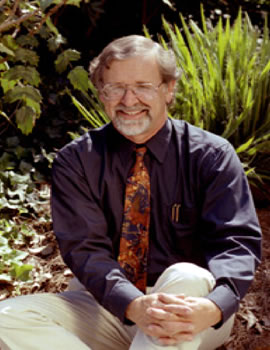 Benjamin Blount
Professor named American Anthropologist editor
By Rebecca Luther
Editor, Sombrilla Magazine
(Aug. 18, 2005)--UTSA professor Benjamin Blount has been named editor-in-chief of American Anthropologist, a journal of the American Anthropological Association. Blount officially takes over Jan. 1, 2006. He will begin accepting submissions this September, and his first issue will be published in September 2006.
"The editors list of the American Anthropologist reads like a who's who in the history of the discipline," says Daniel Gelo, dean of the UTSA College of Liberal and Fine Arts and a professor of anthropology. "This is the first time we've had a journal of this order edited at UTSA."
"It's exactly the kind of work that we need done here, particularly as we look forward to having a Ph.D. program in anthropology. Having the journal emanate from UTSA brings recognition and validates our new Ph.D. program and will provide very important opportunities for our students to gain experience working with academic journals and handling submissions and reviews."
UTSA's proposal for a Ph.D. degree in anthropology, which would be the university's 14th doctoral program, was approved by the UT System Board of Regents earlier this month and now will go before the Texas Higher Education Coordinating Board.
Blount says that the editorship coincides nicely with the start-up of the doctoral program. "I think it may actually have a very positive contribution toward the professionalization of the Ph.D. program in attracting students," he says. "In other words, I can see it potentially as a magnet for, not only visibility and recognition [for UTSA], but for students wanting to come here for the doctoral program."
Blount, a native Texan, joined the Department of Anthropology last year after teaching 25 years at the University of Georgia. Prior to that, he taught for 10 years at his undergraduate alma mater, UT Austin.
Blount says the position at UTSA allowed him to move back to Texas and to continue teaching and doing research. His research at Georgia focused on the Georgia coast, including fresh water availability issues and issues relating to small-scale fishing communities and families.
"Both of those issues are very, very paramount here in Texas also," Blount says. He is doing another project on personal naming systems in Native American and Africa American societies.
But Blount will have to scale back his field research to fulfill his American Anthropologist responsibilities, he says. "I knew personally a number of the other editors, and what they have all told me is that it's a full-time job," he says. "They said you will devote minimally 40 to 45 hours a week just to that job. I'll be busy."
Blount will serve as editor-in-chief for four years. He says one of his goals for the American Anthropologist is to broaden the scope of the journal, which has increasingly focused on social and cultural anthropology, to other areas of the field, such as biological and physical anthropology and archaeology. He hopes to increase the number of book reviews and research reports published in the journal.
"Another thing that I will do is work very closely with my editors and editorial board, particularly the associate editors, to encourage them to have their colleagues identify topics that could be of broader interest to the field -- something in archaeology, for example, that a cultural anthropologist would want to read -- and then try to have as many of those articles in the journal that I possibly can," Blount says.
"I plan to be very proactive in soliciting articles that are of broader interest to the field."
The American Anthropological Association (AAA) is the world's largest professional organization for anthropology with membership averaging in excess of 10,000. American Anthropologist is the flagship journal of the association and was founded in 1888. The UTSA Department of Anthropology also is the editorial home for another AAA journal; department chair James McDonald and associate professor Laura Levi serve as co-editors of Culture & Agriculture.
Blount previously served as linguistics editor for the American Anthropologist (1977-1984) and as editor of AAA's Journal of Linguistic Anthropology (1990-1995).