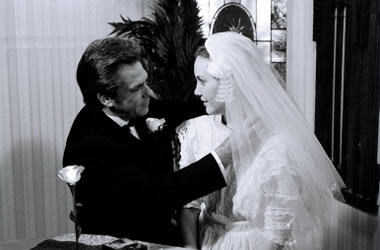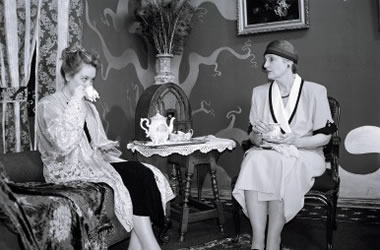 Top: Actors Craig Rainey and Emily Eldredge as newlyweds,
Middle: Actors Emily Eldredge and Sherry Whitmore on set,
Bottom: Durango Building studio turned into a movie set
(Photos by Nancy Membrez)
FYI Features: Nancy Membrez's life looks different in 'Sepia Tone'
By Rebecca Luther
Editor, Sombrilla Magazine
(Aug. 30, 2005)--As UTSA faculty ready for the start of a new academic year, one faculty member, associate professor Nancy J. Membrez, is completing a major project: the filming of her first feature-length movie.
Membrez, who teaches both Spanish literature and digital video production at UTSA, has spent the summer shooting scenes for her film, "Sepia Tone," in the Durango Building production studio at the Downtown Campus.
With permission from the Department of Communication, which manages the facility, Membrez turned the studio into a full-fledged movie set. Some of her students helped with the initial set design and construction last spring.
The set includes interiors for a Victorian house and is decorated with Membrez's family heirlooms and items purchased on eBay and in area antique shops.
"I've been collecting props for 20 months," she says. "I know this period very well... I've been very scrupulous on being period correct. If I can't find it, I make it myself."
This isn't the first time Membrez has used the UTSA campuses for shooting locations. Film crews of students enrolled in her video production classes have become a familiar sight on the 1604 Campus, and Membrez used several sites there when she made her 2003 short, "The Turtledove." She also shot one scene for "Sepia Tone" at the dome painting by artist Santa Barraza in the Biosciences Building last summer.
Membrez is screenwriter, director and executive producer of "Sepia Tone" and has invested $35,000 in the movie. Set in San Antonio in the early 20th century, the film portrays mismatched couple Marshall and Helen Dekker. Marshall's affair with a cruel mistress leads to unimaginable consequences for his family. The fictional story is based on her own great aunt's troubled marriage, Membrez says. Membrez even uses some of her great aunt's belongings and clothing as props and costumes in the film.
Actors Craig Rainey, Emily Eldredge, Laurie Lucas and John Lansch portray the principal characters in the film. Rainey and Lucas live in San Antonio; Lansch is based in Austin. Eldredge, who plays the female lead, Helen Dekker, is from Texas, but works in New York. She has been in San Antonio since March to work on the movie. "My brother [who is the film's director of photography] sent me the script in New York," Eldredge says. "I called Nancy up immediately and we talked for three hours."
Her male co-star is equally enthusiastic about the movie. Craig Rainey, who is shooting two films simultaneously, plays Dr. Marshall Dekker. "It's as if she designed the character specifically for me," Rainey says of Membrez's script.
Membrez says it has been a great experience for her, as a new director, to work with professional actors. "The actors have brought so much to the script," she says. "I am astonished on a daily basis by their nuanced performances."
But Membrez also cast several of her UTSA colleagues in some of the film's other roles. Michael Madison, a 2003 graduate of the management of technology program and a customer service specialist in Student Computing Services, plays a lawyer; College of Sciences academic adviser Sherry Whitmore plays the Dekkers' nosy neighbor; and associate professor Christopher Wickham, Membrez's colleague in the Department of Modern Languages and Literatures as well as associate dean in the College of Liberal and Fine Arts, has a walk-on role, as does department chair Marita Nummikoski.
Once the crew finishes filming the scenes at the Downtown Campus in September, they will move on to other locations, including Pipe Creek Ranch, which is managed by Emily Eldredge's brother and the film's director of photography, Ben Eldredge.
Membrez hopes to wrap filming by Nov. 1. Editing the 100-minute film will take six months or longer, she says, and ragtime pianist/composer Greenfield Bowie, of Austin, will score the film. Once it's complete, she plans to send "Sepia Tone" out to film festivals.
"We are aiming high," she says. "Sundance is at the top of the list."
Her lead actress concurs. "We have some wonderful, wonderful performances in this film," Eldredge says. "I think people will be impressed with the level of work and detail that have gone into it."