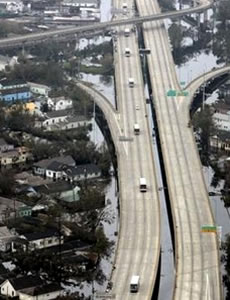 Rescue buses leaving New Orleans
UTSA opens enrollment to area students displaced by Hurricane Katrina
By David Gabler
Assistant Vice President of University Communications
(Sept. 1, 2005)--The University of Texas at San Antonio is opening enrollment to area students who are unable to attend colleges and universities closed because of Hurricane Katrina's devastation.
The university is working to accommodate affected students on a case-by-case basis in academic areas where space is available.
"This is a terrible crisis affecting millions of people in many ways," said UTSA President Ricardo Romo. "If there is some way UTSA can help university students from this region who now cannot attend classes in Louisiana and Mississippi, then we will do what we can."
Classes at UTSA began Aug. 24, when the university enrolled more than 27,000 students. Students wishing to enroll should contact the UTSA Office of Admissions at (210) 458-4547.
Proof of Texas residency is required for in-state tuition, and prospective students must bring some type of documentation that demonstrates their status as a student in good standing at an affected college or university.