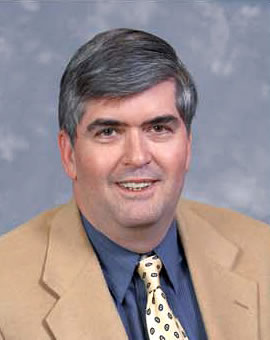 George Perry
George Perry named dean of College of Sciences
By Kris Rodriguez
Public Affairs Specialist
(Dec. 6, 2005)--After a nationwide search, University of Texas at San Antonio President Ricardo Romo has named George Perry, professor of pathology and neurosciences at Case Western Reserve University, the dean of the UTSA College of Sciences.
Case Western Reserve University in Cleveland, Ohio, is one of the top 20 private research universities in the nation. Perry begins his new role at UTSA in January 2006.
"Members of the UTSA community are delighted that Dr. Perry has agreed to serve in this very important role at the university as we move toward premier research university status," said Romo. "Dr. Perry brings to the College of Sciences a well-established record of achievement as a scientist, researcher and administrator. He also understands the role that universities play in society as centers of education and research and as partners in economic development."
Perry has directed Case Western's Department of Pathology and authored more than 600 scientific publications and 500 abstracts. He serves on the editorial board of more than 20 publications and is editor-in-chief of "The Journal of Alzheimer's Disease." In 1998, Perry was elected as a Fellow by the American Association for the Advancement of Science, the world's largest general scientific society.
"I am honored to join efforts to move UTSA to major research university status," said Perry. "I have never seen such broad-based enthusiasm and commitment to increasing excellence in scholarship and educational opportunities. I also look forward to embracing the San Antonio community in these goals and working to promote development in South Texas."
Perry received his doctoral degree in marine biology from the Scripps Institution of Oceanography at the University of California at San Diego. He served as a postdoctoral fellow in cell biology at Baylor College of Medicine and earned a bachelor's degree in zoology from the University of California at Santa Barbara.
Perry replaces William Baker, a professor of chemistry who served as interim dean while the university conducted its search. Baker, whose career includes 22 years as an administrator and educator at the University of Texas at Arlington, recently had a chemistry building at UT Arlington named in his honor.
Over the last two years, the UTSA College of Sciences implemented five new programs including doctoral degree programs in physics and chemistry, a master's degree in applied mathematics and a bachelor's degree in environmental science. Since 2001, enrollment has increased by nearly 30 percent with more than 5,000 students enrolled in 24 undergraduate and graduate degree programs.