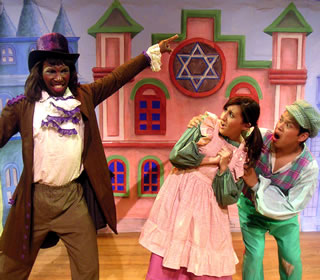 UTSA cast of "Brundibar"
UTSA presents children's opera 'Brundibar' March 31
By William McCrary
Director of Lyric Theatre
(March 28, 2006)--The UTSA Department of Music's Opera To Go and the Opera Guild of San Antonio will present a performance of the Hans Krasa children's opera, "Brundibar," at 7:30 p.m., Friday, March 31 at the Buena Vista Theatre on the UTSA Downtown Campus.
Preceding the opera performance, Holocaust and Terezin concentration camp survivor Inge Auerbacher will introduce a 7:30 p.m. screening of the short film, "The Olympic Doll: A Child Survivor's Story." A reception honoring Auerbacher immediately follows the opera performance.
In 1938, composer Hans Krasa and librettist Adolf Hoffmeister wrote "Brundibar" in the ghettos of Prague. The opera made its way to Terezin, where it was performed 55 times by the children of the concentration camp under the direction of Jewish music teachers.
The Nazi command permitted concerts at Terezin in order to delude the outside world into thinking the Jews were being treated humanely. In 1944, the Nazis filmed a performance of "Brundibar" for their propaganda film, "The Fuehrer Presents the Jews with a City." Nearly all of the children who performed in the opera were deported to Auschwitz and died in the gas chambers. Krasa met the same fate.
The history of "Brundibar" is brutal, but the opera itself is a parable of hope and justice. It is the tale of a poor family whose children seek money to buy milk for their sick mother, only to have their quest thwarted by an evil organ grinder named Brundibar. With the help of three intelligent animals, the children defeat the unjust bully and return home in triumph.
UTSA's Opera To Go program will present "Brundibar" in Terezin, Czech Republic, on June 2, 2006. It will be the first American production of the poignant children's fairy tale to be presented in the former concentration town.
Tickets for the March 31 performance of "Brundibar" are $10 and support the Opera To Go performance in Terezin. For more information, call (210) 458-5685.