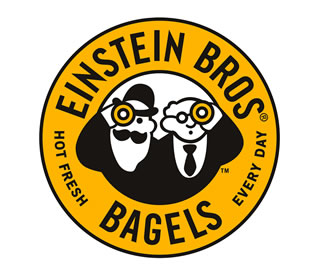 Top: UTSA community members sample new Einstein's Bros Bagels.
Bottom: Einstein Bros Bagels logo
(Photo by Ashley Harris)
UTSA opens San Antonio's first Einstein Bros Bagels
By Ashley Harris
Public Affairs Specialist
(Aug. 23, 2006)--UTSA students, faculty, staff and locals who have a love for bagels can now enjoy a famous Einstein Bros Bagels, as the city welcomed its first location Wednesday, Aug. 23. The contract for the food venue was established by the Chartwells Dining Services in partnership with UTSA.
The renowned eatery is on the first floor of the recently dedicated Biotechnology, Sciences and Engineering Building on the university's 1604 Campus.
The UTSA location is open from 8 a.m. to 2 p.m., Monday through Friday. Einstein's locations also can be found in Austin, Houston and Dallas.
Always ready to inspire students, the university felt that the more "Einstein's" on campus, the better -- particularly in the BSE Building with an Albert Einstein quote winding around the upper walls of its atrium lobby.
The Einstein Bros Bagels breakfast menu features bagels, muffins, strudels, bagel omelet sandwiches and an assortment of gourmet cream cheeses. For lunch, there are panini sandwiches on ciabatta bread, salads and soups. Einstein's also sells cookies, coffees, teas and sodas.
Einstein's, which operates 456 restaurants in 30 states, can be found on college campuses across the country including Tulane, University of Florida, Kent State, George Washington and Clemson.