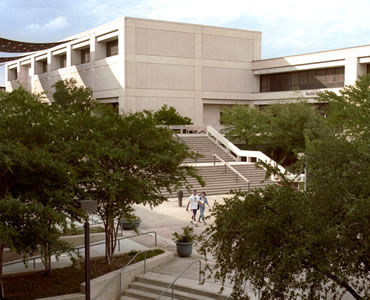 Arts Building, UTSA 1604 Campus
UTSA ranks fifth in Texas research productivity
By Marianne McBride Lewis
Director of Public Affairs
(June 20, 2007)--In a study released June 13 by Chester, Pa.-based Academic Analytics, UTSA was ranked fifth for faculty scholarly productivity among other large research universities in the state.
In a survey of 166 large universities nationwide, 10 Texas universities were included. UTSA placed fifth in Texas behind Rice University, University of Texas at Austin, Texas A&M University and University of Houston - University Park. Harvard University took top honors in the rankings report.
"As UTSA continues on its journey to become a top-100 research university, this is great news," said UTSA President Ricardo Romo. "To be listed among the top 5 in Texas is quite an honor and is an affirmation of the kinds of programs we are building and for the quality of the faculty who call UTSA home."
Other Texas universities participating in the study included University of Texas at Dallas in sixth place statewide, followed by Texas Tech University, University of Texas at Arlington, University of North Texas and Baylor University.
A research university is defined as an institution with 15 or more Ph.D. programs across multiple disciplines. Scholarly productivity of faculty is determined by taking into account publications, citations, and financial and honorary awards. Currently, UTSA offers 20 Ph.D. programs with several more in development and is funded with $50 million annually in grants and sponsored programs.
"We are very proud of the increased momentum and excellence of all research at UTSA," said Robert Gracy, UTSA vice president for research. "This new report is consistent with one from the Texas Higher Education Coordinating Board which ranked UTSA third of all the universities in the UT System in federally funded research."
Academic Analytics LLC (AA LLC) is the result of collaboration between faculty and researchers at the Stony Brook University and Educational Directories Unlimited Inc. Founded in 2005, AA LLC is compiling and making available The Faculty Scholarly Productivity Index (FSP Index), a new method for ranking doctoral programs at research universities (both Carnegie Research Extensive and Research Intensive), based on a set of statistical algorithms developed by Lawrence Martin and Anthony Olejniczak that measure the scholarly productivity of faculty.
The FSP analysis creates by academic field of study a ranking based on the cumulative scoring of a program's faculty compared to national standards within disciplines. Individual program scores are combined to demonstrate the quality of the scholarly work and academic strength of a university. When analyzed over time, there is a full picture of the direction of a program and the entire university.