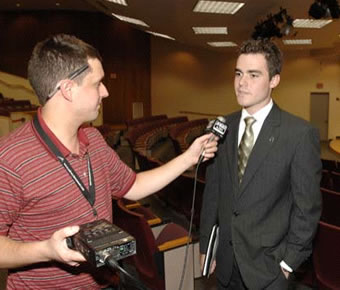 Top: UTSA community members react to the announcement of the
passage of the athletics fee referendum. Middle: UTSA Athletic Director
Lynn Hickey answers questions. Bottom: SGA President Tommy
Thompson is interviewed. (Photos by Mark McClendon)
UTSA students pass athletics fee referendum
By David Gabler
Assistant Vice President of Communications
(Sept. 13, 2007)--Students at The University of Texas at San Antonio learned today that a referendum to support expansion of the school's athletics program passed with 3,031 students voting for and 1,571 against.
The students' endorsement of increased fees includes support for the eventual addition of a football program at the city's only Division I athletics program. With 4,602 votes cast, 65.9 percent voted for the fee increase and 34.1 percent voted against it.
"Students have demonstrated today their support for building a premier public university and building equity in their degrees," said UTSA President Ricardo Romo. "This is the beginning of a new chapter for our Division I athletics program."
Students voted Sept. 11-12 during an online election sponsored by the UTSA Student Government Association. The student referendum authorizes athletics fees to increase from a maximum of $120 per semester to a maximum of $240. If approved by UTSA administration and the UT System Board of Regents, the increases would provide additional support for all of UTSA's existing 16 Division I sports programs.
"UTSA students have spoken, and this vote endorses their dream to take the athletics program at the university to the next level," said Gage Paine, UTSA vice president for student affairs. "With this vote, students demonstrate once again that they support the expansion of student life activities at the university. During the last five years, students at UTSA have supported the expansion of the University Center, the Recreation and Wellness Center, parking facilities and additional on-campus housing."
UTSA is an NCAA Division I member institution that sponsors 16 sports: baseball, men's and women's basketball, men's and women's cross country, men's and women's golf, women's soccer, softball, men's and women's tennis, men's and women's indoor and outdoor track, and field and volleyball. Since 1991, UTSA has been a member of the Southland Conference, which includes 12 member schools in Arkansas, Louisiana and Texas.
UTSA is one of the fastest growing higher education institutions in Texas and the second largest of nine academic universities and six health institutions in the UT System. As a multicultural institution of access and excellence, UTSA aims to be a premier public research university providing access to educational excellence and preparing citizen leaders for the global environment.
The university serves 28,688 (preliminary fall 2007 number) students in 63 bachelor's, 43 master's and 20 doctoral degree programs in the colleges of architecture, business, education and human development, engineering, honors, liberal and fine arts, public policy, sciences and graduate school. Founded in 1969, UTSA is an intellectual and creative resource center and a socioeconomic development catalyst for Texas and beyond.
----------------------------------------
Q&A: Athletics fee increase
Q. Does this mean football will come to UTSA?
A. Students voted to support their vision of taking UTSA's athletic program to the next level. This opens the door for the addition of a Division I football program -- but this is only the first step.
Now, it's time for UTSA to see if there is sufficient financial support in the community to help support a football program because student fees alone will not generate enough revenue to cover the costs associated with adding football.
Because state law prohibits UTSA from using tuition dollars or state appropriations for athletics, football at UTSA must be a partnership between student fees and private donations.
Q. When could UTSA possibly have a football team?
A. The best-case timeline published in the recent football feasibility study has UTSA playing its first game three years after UTSA has made the decision to begin a football program.
First, the referendum vote to increase student athletics fees must be approved by the UT System Board of Regents. The request has not yet been scheduled.
Second, UTSA administration will work with students to develop a plan on how best to implement the increased athletic fee
Third, the university will immediately gauge what amount of financial support exists in the community to support expanded athletics programs and a Division I football team.
When these steps are accomplished, UTSA would decide at that point to add a football program and the clock begins ticking on the best-case scenario of "three years from now."