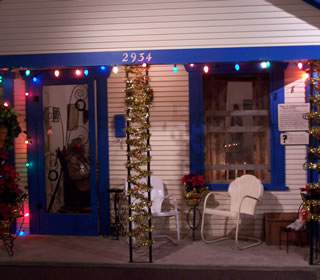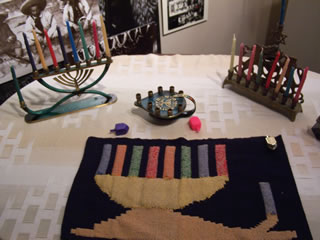 "Holiday, Texas" display at ITC (from top): Typical 1970s home
decorated for the holidays in the Mexican-American section of
San Antonio's Prospect Hill neighborhood, Czech family Christmas
tree and Hanukkah celebration in a Jewish home
ITC presents 'Holiday, Texas' exhibit through Jan. 6
By James Benavides
Public Affairs Specialist
(Dec. 12, 2007)--UTSA's Institute of Texan Cultures presents the "Holiday, Texas" exhibit through Jan. 6, featuring the Mary Jane and Raymond Judd Christmas Book Collection and displays of holiday traditions across cultures. Docents are available to discuss the various holidays.
Collecting for several years, the Judds accumulated signed lithographs, official ornaments, holiday greeting cards, books and other memorabilia from the Johnson through the George W. Bush administrations. A selection of their preserved newspaper clippings from Harper's Weekly dates to the Civil War. Also featured is a rare nativity mural by Czech artist Ferdinand Pribyl dating between 1890 and 1900.
The recent "An Afternoon in Holiday, Texas" weekend event gave children and families the opportunity to learn about holiday and Christmas traditions influenced by a number of cultures. The tannenbaum (Christmas tree) came from Germany, the yule log from Scandanavia, the poinsettia from Mexico and the Christmas card from England.
Other cultures celebrate significant observances during the Christmas season including the Jewish feast of Hanukkah, the African-American tradition of Kwanzaa and this year in December, the Islamic Hajj pilgrimage.
"An Afternoon in Holiday, Texas" featured a holiday memory book for children and families to collect and catalogue their memories of each cultural celebration. The event's performances included visits from the ITC's Texas Characters and the Robert E. Lee High School Madrigal Singers Choir.
At 801 S. Bowie St. (on Durango Boulevard near Interstate 37), hours of UTSA's Institute of Texan Cultures are noon-5 p.m., Sunday and 10 a.m.-5 p.m., Tuesday-Saturday. Admission is $7 for adults; $4 for children, seniors and military with ID; free with UTSACard.
For more information, visit the Institute of Texan Cultures Web site or call (210) 458-2330.