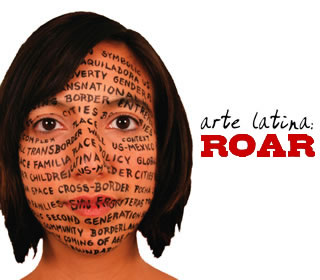 UTSA presents multimedia works of Latina artists
By James Benavides
Public Affairs Specialist
(March 24, 2008)--The multimedia exhibit, "Arte Latina: Roar," will show the depth and excitement of Latina expression from April 3 to June 8 at the Blue Star Contemporary Art Center. Hosted by UTSA President Ricardo Romo and Dr. Harriett Romo, the UTSA Women's Studies Institute, the UTSA Mexico Center and the Blue Star Contemporary Art Center, the exhibition will include the work of 14 visual artists and six writers in a variety of media including painting, sculpture, photography, film, installations and the written word.
The works of Latina artists occupy a unique place in the world of artistic expression, yet often Latina artists are not included in mainstream venues, according to exhibit curator Arturo Almeida, UTSA art specialist and curator of the UTSA art collection. "Unifying artists by their gender and cultural roots inevitably responds to an undeniable pattern of exclusion," said Almeida. "But, what this show is about is bringing to light the unique vision and the indomitable spirit of the Latina artist. The themes of the exhibit will resonate well beyond Women's History Month."
"This is the first time in the history of Blue Star that we have had an exhibition exclusively about Latina visual and literary artists," said Bill FitzGibbons, executive director of the Blue Star Contemporary Art Center. "'Arte Latina: Roar' is an important event, and we look forward to an informative and provocative symposium."
Among the many notable works in "Arte Latina: Roar" is a photograph by Guillermina Zabala portraying a stark image of a young Latina, her face a canvas for scrawled words in black ink including "Sin Fronteras, Second Generation, Familia, Community, Borderland," among others.
Adriana Garcia's work, "Standing Tall," portrays a modern, working and empowered Latina surrounded in radiant light, evoking the cultural iconography of Our Lady of Guadalupe.
A striking series of photographs from Carolina Rubio shows Latina stereotypes with captions such as "La Ideal Wife, No Dice Nada. She Says Nothing." Rubio uses irony to reflect the forgotten position and voice of Latina women.
Among other contributors are artists Anita Valencia and Kathy Vargas and writers Norma Cantu, Raquel Marquez and Rosemary Catacalos.
Free and open to the public, the Blue Star Contemporary Art Center is in Suite 116 at Alamo and Probandt streets, San Antonio, Texas, 78204. Gallery hours are noon-6 p.m., Wednesday-Sunday.
For more information, visit the Blue Star Contemporary Art Center Web site or call (210) 227-6960.