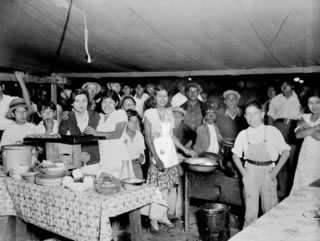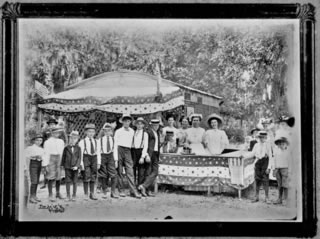 John Wayne visits San Antonio
Cowboys on the Lips Ranch, Hildalgo County, Texas, 1977.
Mission Drive-In Theater, San Antonio, Texas, 1950.
Chili stand in Haymarket Plaza, San Antonio, Texas, January 25, 1933.
4th of July picnic in Peter's Park, Dubina, Texas, ca. 1910.
Photo archives in demand by businesses looking for historic Texas images
By Lynn Gosnell
Special Projects Writer
(July 3, 2008)--When the set designers of the iconic Texas movie "Lonesome Dove" needed to depict the Lone Star State, circa cattle-drive era, they turned to the Photo Archives of the Institute of Texan Cultures Library at The University of Texas at San Antonio.
More recently, when the 750-foot-tall Tower of the Americas observation deck underwent extensive renovation by Landry's Restaurants, the company purchased city images hand-picked by library staff to give visitors some historic context to their view.
And, if you pick up the critically acclaimed CD "Heard it on the X" by Los Super 7, you might notice the images of the legendary singer Lydia Mendoza and border radio impresario "Doc" Brinkley, sourced from a remarkable image archive that's located at The University of Texas at San Antonio.
"We serve a wide variety of patrons," said Yu Li, librarian at UTSA's Institute of Texan Cultures and the person in charge of the photo archive, which comprises more than 3.5 million images from the history of San Antonio, South Texas and the Border region.
Every week Li and her staff take calls and e-mails from around the world requesting information or permission to use the images. ITC Library staff field well more than 1,500 commercial requests for images every year, Li said.
Architects, scholars, interior designers, travel editors, food writers, publishers, hotels, government offices and filmmakers have all sought out this treasure trove of images for their creative projects.
The images are housed in six different collections, each with its own strength or focus. For example, one of the largest collections comprises original glass and film negatives from the now-defunct newspaper, the San Antonio Light (1924-1993). The Great Depression, home-front photos from World War II, sports and numerous small-town images can be found in this 1.5 million-image collection.
The Zintgraff Collection, drawn from a commercial portrait studio that was in business from the 1930s to 1987, preserved images of movie theaters, film stars, the rodeo and downtown street scenes.
Li is in charge of the ongoing digitization project for the archives. The goal is to get searchable records of all images online, a project that will vastly improve the archives' accessibility to patrons.
"About 15,000 images and 22,000 text records are online now," Li said. These online images and explanatory text are available at the online ITC archive photo catalog. From there, researchers can search by keyword, photographer, subject heading or date. Researchers then work with staff on usage or purchase fees.
A high-resolution digital image provided on a CD or uploaded to an FTP file costs $25. Digital photo prints also are available, ranging in sizes from 8 x 10 to 24 x 36 and anything in between. "We can provide customers with any size image they need," noted Patrick Lemelle, who handles photo sales and permissions for the archives.
The archives also is open to the general public.
"We have dentists, doctors and lawyers who come in and buy images for their offices," said Tom Shelton, a photo curator with more than 25 years' experience in the archives. Shelton has been around long enough to recall the visits by "Lonesome Dove" staff, but more recently he recalls several visits by the producer of the documentary film "Writ Writer." She was researching period images of the city as well as of Texas prisons.
Ironically, radio shows also have mined the collections for images. National Public Radio producers The Kitchen Sisters have used the photo archives for research into their acclaimed sound portraits including stories about San Antonio's chili stands and ice houses.
"Last year, we had a business who called and wanted wallpaper made out of an image," Lemelle said, "and we were able to provide them with large scans on CDs, which the clients took to a manufacturer."
Of course, some people come in and find images of relatives, said Lemelle, who notes that genealogists have long been regular patrons of the photo archives.
Usage fees vary according to the type of media. For example, one-time usage fees for books and non-periodical publications range from $30 to $100 and not all the images carry publication fees. Photographic sales and usage fees are available in a downloadable brochure on the ITC Web site.
------------------------------
UTSA's Institute of Texan Cultures
Library Photo Archives
801 S. Bowie St.
San Antonio, Texas 78205
Hours: 10 a.m.-5 p.m., Monday-Friday
Contacts:
Yu "Lilly" Li
Librarian
458-2242
Tom Shelton
Senior Curator
458-2241
Patrick Lemelle
Photograph Sales and Permissions
458-2298