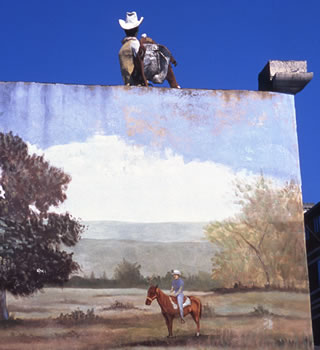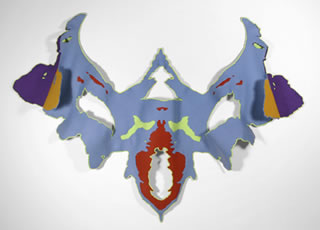 Art by UTSA's Ron Binks (top) and Connie Lowe
Art book features work of UTSA faculty, alumni
(Nov. 4, 2008)--A new book from Trinity Press, "Art at Our Doorstep," features the writing and art of more than 100 area authors and artists, including some 30 UTSA-connected artists including alumni and faculty members. The book includes writing of four UTSA faculty.
From Jacques Barzun, Naomi Shihab Nye and Jim Lehrer to UTSA faculty writers Wendy Barker, Norma Cantu, Bonnie Lyons and Catherine Kasper, to UTSA alumna artist Kathy Vargas, to UTSA faculty artists Ron Binks, Ricky Armendariz, Constance Lowe, Nate Cassie and Karen Mahaffie, to 25 other UTSA students and alumni, San Antonio can boast it is or has been the home to both internationally renowned and emerging authors and artists of immense and varied talent.
Whether the artists and writers are drawn to the city for its culture, sunny skies, universities or simply because they were born here, their creative spirit thrives in San Antonio. Edited by Nan Cuba and Riley Robison, M.F.A., '94, "Art at Our Doorstep" is a tribute to that vibrancy.
Featuring more than 70 color illustrations and more than 40 poems, essays and short fiction, the book captures the heart of San Antonio's visual and literary arts community. The book features National Book Award finalists, Yaddo Fellows, Fulbright Fellows, best-selling authors and critically acclaimed artists as it radiates the breadth of the city's styles from down-home witticism to intellectual finesse.
Paula Cox' linocut of the Tower Life Building and Bill Fitzgibbon's "Light Channels" celebrate San Antonio's iconic landmarks as readily as Sandra Cisneros' humorous love story "Bien Pretty" illuminates other San Antonio landmarks such as the restaurant Mi Tierra and the historic King William district as it dispenses Cisneros' incomparable brand of wit and insight.
Catherine Kasper's poem, "Things That Fall from the Sky," soars as readily as Stuart Allen's kites, while Andrew Porter, recent recipient of the Flannery O'Connor Award for Short Fiction, reveals his talent in the short story, "Hole."
"Art at Our Doorstep" is an extraordinary and unprecedented collection of San Antonio' cultural legacy. A sumptuous book, it is sure to be treasured by local art and literary fans.
Nan Cuba has edited two anthologies and published stories, poems and reviews in Quarterly West, Columbia: A Magazine of Poetry and Prose, Harvard Review, Bloombury Review and other journals. She is the founder of Gemini Ink, a nonprofit literary center in San Antonio, and currently is writer-in-residence at Our Lady of the Lake University.
Riley Robinson, M.F.A., '94, has been the studio director for Artpace San Antonio since 1994. He has curated two exhibits at Blue Star Contemporary Arts Center in San Antonio. His had shown his own work at exhibits in San Antonio, Austin and Richmond, Va., and in Norway and Finland.
For more information, contact Claudia Guerra, Trinity Press marketing manager, at (210) 999-8882.
---------------------------------
"Art at Our Doorstep"
Artists in book with UTSA connections
Jennifer Agricola, M.F.A.
Ricky Armendariz, tenure-track faculty
Ron Binks, tenured faculty
Andrea Caillouet, M.F.A. '99
Nate Cassie. M.F.A. '95
Margaret Craig, M.F.A. '97
Janet Lenie Flohr B.A. and M.F.A. '90
Mark Hogensen, M.F.A. '90
Marilyn Lanfear, M.F.A. '78
Ken Little, tenured faculty
Constance Lowe, tenured faculty
Karen Mahaffy, M.F.A. '96
Katie Pell, current M.F.A. student
Juan Miguel Ramos, B.F.A., M.F.A.
Riley Robinson, M.F.A. '94
Dario Robleto, B.F.A. '97
Dana Rodriguez Gil, M.F.A.
Chris Sauter, M.F.A. '96
Gary Schafter, M.F.A.
Regis Shephard, M.F.A. '96
Trish Simonite, M.F.A. '87
James Smolleck, B.F.A.
Hills Snyder, M.F.A. '95
Henry Stein, B.F.A. '85
Robert Tiemann, visiting faculty
Jesse Trevino, M.F.A. '78
Kathy Vargas, M.F.A. '84
Anita Valencia, B.A. in humanities
Lloyd Walsh, B.F.A.
UTSA faculty writers featured in book
Wendy Barker
Norma Cantu
Catherine Kasper
Bonnie Lyons
Work by artists in book featured in UTSA Art Collection
Ron Binks
Nate Cassie
Ken Little
Constance Lowe
Alex Rubio
Henry Stein
Jesse Trevino
Kathy Vargas