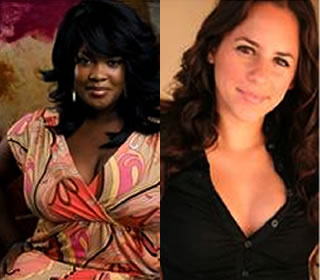 Poets Sonya Renee (left) and Gabriela Garcia Medina
UTSA poetry night features two famous writers
By Tabitha Byrne
Assistant Director of University Center Programs
(March 16, 2009)--The UTSA University Center Program Council will host "Poetry Night" in celebration of Women's History Month. Free and open to the public, the event is 8 p.m., Saturday, March 21 in the University Center Retama Auditorium (2.02.02) on the UTSA 1604 Campus. The evening will feature award-winning slam poet Sonya Renee and spoken-word artist Gabriela Garcia Medina.
As an advocate of women's rights and social activist, Sonya Renee has shot to the top of her field with powerful words and raw poetry based in truth and experience. Not only has she been successful in national poetry slam competitions (National Poetry Slam Champion 2004) but she also achieved back-to-back top-eight finishes at the Individual World Poetry Slam Championship, second place at the International Poetry Slam Championship 2005, and winner of the Four Continents European National Slam Championship in 2006.
Renee gained stardom with appearances on HBO's "Def Poetry Jam" and the reality series "Monique's Fat Chance" on the Oxygen Network. She was described as "not only the voice of every woman, but of humanity. From the neglected to the powerful, from the downtrodden to the triumphed, they all speak through her... and her voice will not soon fade."
An international spoken-word artist and award-winning poet, Gabriela Garcia Medina has performed at colleges, festivals and conferences around the world, and won the Spoken Word Performer of the Year in Campus Programming for 2009. She has performed at college and university campuses across the country, along with workshops and youth conferences at elementary, middle and high schools.
Dedicating her life to creating community through art and poetry, Garcia Medina has been involved with events across the country including the Latina Youth Empowerment Conference in Santa Monica, Calif., the annual Martin Luther King Jr. Festival at Yale University, the Empowering Womyn of Color Conference at Berkeley, Calif., the National Womyn's Spoken Word Tour and independent film projects as well as the release in 2007 of her book, "In the Wake of Oya."
With a "Who's Line Is It Anyway?" improvisational style, UTSA's student theater troupe, Bargain Basement Players, will host the show and add comic relief between the poets' appearances.
------------------------------
For more information, e-mail Tabitha Byrne or Renee Talamantez.