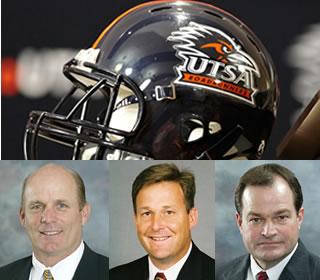 From left are UTSA assistant football coaches Mike Menefee,
Eric Roark and David Ross
UTSA names three assistant football coaches
(April 22, 2009)--UTSA head football coach Larry Coker announced Wednesday that Mike Menefee, Eric Roark and David Ross have been hired as assistant coaches and all three will begin their appointments immediately.
"I'm very excited about completing phase one of assembling our coaching staff," said Coker, who was introduced as head coach March 6. "All three of these coaches bring an enormous amount of experience to UTSA. More importantly, they are high-character people who carry that hard-hat, lunch-pail mentality to work with them every day, and that is important as we begin our recruiting processes."
Menefee comes to UTSA from Illinois State, where he was an assistant coach from 2005 to 2008. He mentored the safeties for the last three seasons, guiding both starters, Jesse Caesar and Tom Nelson, to All-Missouri Valley Conference honors. In 2006, Menefee's safeties were key contributors to the defense's 17 interceptions, the most by the program since 1989.
Before joining the Redbirds staff, Menefee was head coach at Edna High School, near Victoria, Texas, for five seasons. He led the 2002 squad to the playoffs, snapping an eight-year drought, and the Cowboys finished that campaign with a 7-4 record. He joined the Edna coaching staff in 1998 and took over as athletics director and head coach during the 2000 season. Menefee sent 18 players to the collegiate level during his tenure.
Menefee got his start in coaching as a graduate assistant at Tulsa in 1980-1981, working with the secondary. He then served as Texas A&M-Kingsville's secondary coach the next season.
Menefee played on the college-level at Tulsa with current Chicago Bears head coach Lovie Smith and former Illinois State head coach Denver Johnson. He was a two-year starter as free safety for the Golden Hurricane after transferring from Kilgore Junior College. Menefee earned a bachelor's degree in education from Tulsa in 1981.
Roark brings 24 years of collegiate coaching experience, including 13 years as a recruiting coordinator. He was an assistant coach at SMU for six seasons (2002-2007) and spent last year as the defensive coordinator at Grand Prairie High School. While at SMU, Roark coached the secondary and defensive ends, coordinated special teams and also served as recruiting coordinator for four seasons.
Under his tutelage, the punt team finished second in the nation in 2007 and he coached All-Conference USA punter Thomas Morestead, linebacker Justin Rogers and defensive end Cory Muse. He was named the fifth-best non-BCS recruiter in the country by rivals.com in 2005.
Roark spent the 2001 season at Tennessee, where he served as a graduate assistant in football administration. He helped the Volunteers win the Southeastern Conference East Division Championship and Citrus Bowl that year.
Before his time in Knoxville, he coached defensive backs and was the recruiting coordinator at Tennessee Tech from 1997 to 2000, wide receivers at Middle Tennessee State from 1989 to 1997 and defensive backs and wide receivers at Murray State in 1987-1988. He began his collegiate-coaching career as the linebackers coach at Southeastern Oklahoma State in 1984 followed by one-year stops as a graduate assistant at San Diego State (1985) and Iowa State (1986).
Roark earned three letters as a defensive back at Oklahoma State from 1979 to 1982 under Jimmy Johnson. He earned a bachelor's degree in health, physical education and recreation from Southeastern Oklahoma State in 1984 and received master's degrees in the same discipline from Middle Tennessee State in 1996 and a second in sport management from Tennessee five years later.
Ross totes 27 years of coaching experience, including 20 at the collegiate level. Ross was on the Illinois State staff along with Menefee, where he was the cornerbacks coach from 2006 to 2008 and the defensive coordinator his final season. In 2006, Ross' corners contributed to ISU's 17 interceptions and he mentored one of the Missouri Valley Conference's top newcomers in Kelvyn Hemphill.
Prior to his tenure at Illinois State, Ross spent five seasons (2001-2006) as head coach and athletics director at Bacone College in Muskogee, Okla. He was the Warriors' first head coach following the program's reinstatement after a 43-year hiatus and immediately established an NAIA program that was nationally ranked.
Bacone was not Ross' first rebuilding job, as he took over a Kempner Military Junior College program in 1995 that had not posted a winning season in 20 years. He registered a 33-20 record in his five seasons -- including a school-record four consecutive winning campaigns -- and produced 42 NCAA Division I prospects, seven of whom went on to careers in the National Football League.
Ross spent eight seasons at the high school level in Missouri, beginning as head coach at his alma mater, William Chrisman in Independence, from 1988 to 1992. He then started the football program at Blue Springs South from 1992 to 1994, guiding the 1994 squad to an 11-1 record and the state quarterfinal round.
Ross got his start in coaching as an assistant coach in charge of the defensive line at Northeastern Oklahoma A&M Junior College from 1982 to 84. He then worked with Coker as a graduate assistant at Oklahoma State from 1984 to 1986 before serving as assistant head coach and defensive coordinator at Central Methodist (Mo.) from 1986 to 1988.
He earned a bachelor's degree in physical education from Central Methodist in 1982 and master's degrees in public school administration from UMKC in 1994 and sports administration from the United States Sports Academy in 2005.
Coker plans to hire six more assistant coaches and a director of operations over the next two years. UTSA will sign its first recruiting class next February and is slated to compete in the NCAA Division I Football Championship Subdivision (formerly Division I-AA) beginning in 2011.