Phase two of John Peace Library renovation to be completed by November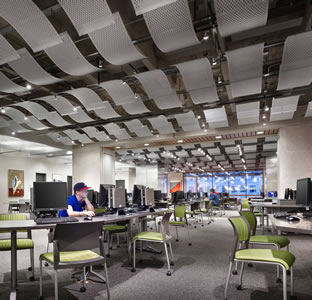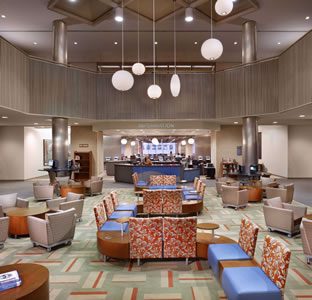 Share this Story
(May 24, 2010)--The next phase of the John Peace Library renovation at the UTSA Main Campus, known as the Student Services Integration phase of the project, officially is underway. Construction is expected to continue through the summer and fall with an expected completion date of November 2010.
Improvements in this phase will include:
New spaces on the library's second floor for the Tomas Rivera Center (supplemental instruction and tutoring units) and the Writing Center will create a one-stop shop for student intellectual engagement and support.
An expansion of the Information Commons will integrate an additional 50 computers. Ten new instruction rooms also will be constructed.
Current periodicals, newspapers, government documents and microforms will moved to the fourth floor, joining the new Special Collections suite which opened last fall.
By popular demand, a new quiet study room will be constructed in the northwest corner of the second floor.
As part of these transitions, the building's elevators will be reconfigured this summer so that patrons can easily move from the fourth floor to the second floor circulation desk, and to ensure that all library entrances are monitored by security gates. Two elevators will run between the first and second floors, and the other two will run between the second, third and fourth floors.
Once the elevators have been reconfigured, the JPL stairwells will be available for use. Stairwells on the northeast and southeast sides (at the end of the library near the Main Building) will be accessible between the second, third and fourth floors.
Phase two of JPL's renovation comes on the heels of national recognition for the first phase completed October 2009. American Libraries magazine highlighted JPL's new information commons as part of the publication's annual design showcase.
JPL was identified in the American Libraries online edition as one of 12 exemplary library designs in their "Themes and Styles" category. In the citation, JPL's first phase of renovation was praised for softening the building's original concrete architecture through the use of unusual "wave" metal ceiling panels as well as color, furniture and accent carpet.
JPL patrons are asked for their patience during the next several months as construction causes noise and dust in the building. Free earplugs are available at both the front desk and information desk.
For more information about the John Peace Library renovation project, contact Eric Shoaf, assistant dean for operations, at 210-458-5506.