UTSA cybersecurity graduate programs ranked among the very best in the nation by Universities.com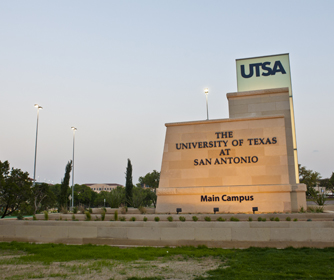 (June 1, 2016) -- The University of Texas at San Antonio (UTSA) has been ranked as one of the top two graduate cybersecurity programs in the United States, according to an analysis of 70 programs by Universities.com. The ranking highlights UTSA's success in generating a pipeline of talented students with the knowledge and practical skills to excel in cybersecurity careers.
The Ponemon Institute has previously ranked UTSA's overall cybersecurity programs No. 1 in the nation, based on a survey of IT executives, and the university's academic and research programs are recognized for excellence by the National Security Agency and Department of Homeland Security.
"This ranking for graduate programs is another validation that UTSA's cybersecurity programs are the best of the best," said Bernard Arulanandam, UTSA interim vice president for research. "It is rewarding to see UTSA's graduate programs in cybersecurity recognized alongside an esteemed university like Carnegie Mellon."
In the ranking, Carnegie Mellon was ranked as the top graduate program, followed by UTSA.
Cybersecurity is one of UTSA's five core research strengths. The university offers undergraduate and graduate programs in security through the College of Business, College of Sciences and College of Engineering to meet the public and private sectors' need for new and highly qualified cybersecurity professionals. Alumni of UTSA have secured jobs with industry, government and military employers such as Rackspace, USAA, Raytheon, Booz Allen, the NSA and the U.S. Army.
UTSA is also home to three research centers: the Institute for Cyber Security, the Center for Infrastructure Assurance and Security and the Center for Education and Research in Information and Infrastructure Assurance and Security. The centers and institutes are focused on solving global security challenges in today's increasingly technological world. They also give UTSA students the opportunity to conduct research alongside some of the nation's most respected cybersecurity faculty members in the nation.
"Many programs produce either skilled cyber security practitioners or people knowledgeable about cybersecurity, but few achieve both. UTSA does," said Nicole Beebe, Melvin Lachman Distinguished Professor in Entrepreneurship and associate professor in the UTSA Department of Information Systems and Cyber Security.
In 2015, UTSA was selected by the Department of Homeland Security to develop national cybersecurity standards for information sharing. The project directly supports President Obama's cybersecurity strategy.
In 2005, UTSA founded the National Collegiate Cyber Defense Competition, the nation's largest cybersecurity competition for college students. The competition has become such a popular training ground for talent that prospective employers are now barred from making job offers to competitors until the three-day challenge is completed.
----------------------------
Read more about University.com's ranking.
Learn more about cybersecurity at UTSA.
Events
De-stress during Finals Week with UTSA Libraries' Relaxation Stations, located at John Peace Library on the second floor, and at the Downtown Library. The Relaxation Stations will include puzzles, coloring and more from Dec. 6-Dec. 14.
John Peace Library, second floor and Downtown Library, Main and Downtown Campuses
This UTSA student exhibit features the work of anthropology students who have examined the effects tourism has on local culture.
UTSA Institute of Texan Cultures, Hemisfair Campus
Students from grades 9 to 12 at Brooks Academy of Science and Engineering delved into their family histories and turned their family photos into artworks.
UTSA Institute of Texan Cultures, Hemisfair Campus
The first ceremony begins at 10 a.m. honors graduates from the College of Architecture, Construction and Planning, College of Business, College of Education and Human Development and College of Public Policy.
Alamodome, 100 Montana St., San Antonio
At 4 p.m., the second ceremony will be held to honor graduates from the College of Engineering, College of Liberal and Fine Arts, College of Science and the University College.
Alamodome, 100 Montana St., San Antonio
UTSA's John Nix invites the community to sing "Amazing Grace" and "We Shall Overcome" at 11 a.m. on Martin Luther King Jr. Day. The intent of this nationwide effort is to honor Dr. King's legacy and to spread a sense of community in the United States.    
Locations throughout the United States
The annual event features authentic foods, music, dance, martial arts, shopping, games and entertainment from China, to the Indian Sub-continent, and the island nations of the Pacific. The Festival features two stages, a martial arts demonstration area, children's hands on crafting area, anime activities, bonsai and ikebana displays, mahjong table and more.
UTSA Institute of Texan Cultures, Hemisfair Campus
Level up your career with a graduate business degree from the UTSA College of Business. Join us for this Open House to learn which of our 13 degree programs is right for you.
Business Building (BB 2.06.04), Main Campus
---