UTSA researcher receives $3.1 million to study effectiveness of obesity prevention program for preschool children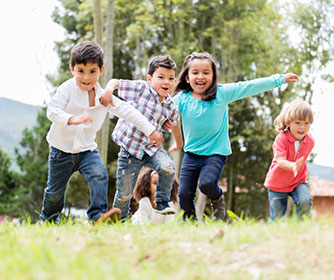 (September 22, 2016) – UTSA and University of Texas at Austin (UT Austin) researchers have received a five-year, $3.1 million federal grant from the National Institutes of Health and the U.S. Department of Health and Human Services to study local obesity prevention efforts.

Zenong Yin, Loretta J. Lowak Clarke Distinguished Professor in Health and Kinesiology of the Department of Kinesiology, Health and Nutrition at the UTSA College of Education and Human Development (COEHD), and Deborah Parra-Medina, director of the Latino Research Initiative at UT Austin, will co-lead a multidisciplinary team of researchers. UTSA COEHD faculty members Erica Sosa and Meizi He will also contribute to the research.

Conducted in partnership with the Family Service Association of San Antonio, Yin and his team will focus on evaluating Head Start program "¡Míranos! Look at Us, We are Healthy!" ¡Míranos! is a multifaceted obesity intervention program meant to promote healthy growth in preschool-aged children enrolled at Head Start Centers.

"The ¡Míranos! program holds great promise for creating healthier outcomes for San Antonio children, and we hope to build upon it in ways that change many lives for the better," said Yin. "The study is intended to provide much needed evidence-based guidance on policy and practices at early childhood education centers and enhance parental support at home."

The ¡Míranos! program uses center-based interventions, such as policy changes, professional development and nutrition education, and home-based interventions, such as parent engagement, health education and home visits, to promote healthy habits and prevent childhood obesity.

"Providing full wrap-around services to the families of Head Start is a cornerstone of the ¡Míranos! program," said Nancy L. Hard, president and CEO of the Family Service Association of San Antonio Inc. "The support that will be provided by UTSA and its partners through the study will expand the opportunity to share additional knowledge with those most in need in our community."
The ¡Míranos! study will enroll 523 preschool-aged children in 21 Head Start centers across Bexar County and track their health progress for two years. The program's approaches toward educating parents and home environment interventions will also be studied. Additionally, the researchers will help Head Start administrators implement cutting-edge research strategies to improve outcomes.

Once completed, the researchers say the study will provide a good starting point for future research in early childhood obesity prevention, which is sparse in strategies targeting Hispanic population.
"Partnering with Head Start Centers in San Antonio is going to allow us to put current research into practice in new and impactful ways," said Parra-Medina. "We believe that integrating the evidence into real-world settings holds promise for a meaningful and sustainable impact on the health of our community."
Recently, Joaquin Castro (TX-20) noted the link between childhood obesity and obesity in adulthood. He spoke of the great need for childhood obesity prevention strategies.
"When kids are healthy in early childhood, the odds are better they'll be healthier as adolescents and adults," said Congressman Castro. "Obesity is a real problem in San Antonio, and it greatly contributes to our city's high rates of diabetes, heart disease and other weight-related medical problems."

He added, "With this funding, UTSA will help determine if we're pursuing effective strategies to prevent onset of obesity in children. Ensuring folks start life on a healthy foot improves the likelihood that later on they won't suffer the physical and financial hardships that accompany chronic illness."
-------------------------------
Learn more about College of Education and Human Development.
Connect online with UTSA at Facebook, Twitter, YouTube and Instagram.
Events
De-stress during Finals Week with UTSA Libraries' Relaxation Stations, located at John Peace Library on the second floor, and at the Downtown Library. The Relaxation Stations will include puzzles, coloring and more from Dec. 6-Dec. 14.
John Peace Library, second floor and Downtown Library, Main and Downtown Campuses
This UTSA student exhibit features the work of anthropology students who have examined the effects tourism has on local culture.
UTSA Institute of Texan Cultures, Hemisfair Campus
Students from grades 9 to 12 at Brooks Academy of Science and Engineering delved into their family histories and turned their family photos into artworks.
UTSA Institute of Texan Cultures, Hemisfair Campus
The first ceremony begins at 10 a.m. honors graduates from the College of Architecture, Construction and Planning, College of Business, College of Education and Human Development and College of Public Policy.
Alamodome, 100 Montana St., San Antonio
At 4 p.m., the second ceremony will be held to honor graduates from the College of Engineering, College of Liberal and Fine Arts, College of Science and the University College.
Alamodome, 100 Montana St., San Antonio
The annual event features authentic foods, music, dance, martial arts, shopping, games and entertainment from China, to the Indian Sub-continent, and the island nations of the Pacific. The Festival features two stages, a martial arts demonstration area, children's hands on crafting area, anime activities, bonsai and ikebana displays, mahjong table and more.
UTSA Institute of Texan Cultures, Hemisfair Campus
UTSA Day is an Open House and one of the best ways to see what it is like to be part of the UTSA Family! Schedule a visit the way you want, based on your interests and time. Learn more about the next steps on becoming a Roadrunner!
Various locations, Main Campus
Diploma Dash is a fast, certified 5k course for runners and a scenic route around Main Campus for walkers, strollers and dogs! There are individual and team prizes. Benefits UTSA students through the UTSA Alumni Association scholarship program.
UTSA Main Campus
---