UTSA president announces plans to retire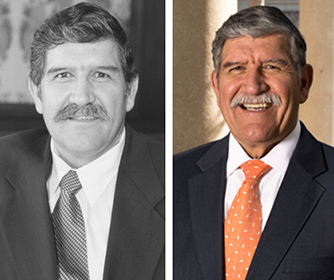 (Sept. 7, 2016) -- Dr. Ricardo Romo today announced his intention to retire as president of The University of Texas at San Antonio next August, following the conclusion of the Spring 2017 academic semester. Romo is the fifth and longest serving president in the university's 47-year history and its first Hispanic president. A native of San Antonio, he joined UTSA in 1999 after holding administrative and academic positions at The University of Texas at Austin.
Since being named president, Romo has led the university through the most transformative period in its history, with more than 50 percent of all academic degrees awarded during his tenure than in the previous 30 years. Today, the university has more than 112,000 alumni.
At the same time, UTSA has grown from San Antonio's hometown university to an internationally recognized institution known for its commitment to academic excellence, groundbreaking research and the richness of its student diversity.
Under Romo, the university has achieved unparalleled accomplishments. They include:
Expansion from four to nine colleges and evolution from a commuter campus to a world-class research institution;
Record 68 percent growth in enrollment, expansion of academic programs from 91 to 162 and doctoral program growth from 3 to 24 to become a leader in providing access to post-graduate education in South Texas;
Designation by the Texas Legislature as an emerging Tier One research institution, and advancement toward Tier One status, with more than $130 million in endowments and more than $66 million in new external research/sponsored projects awards;
Recognition as one of the top 100 young universities in the world by Times Higher Education based on quality of academic programs, faculty and research;
Designation of the prestigious Community Engagement Classification by the Carnegie Foundation for the Advancement of Teaching for teaching and research, public service, volunteerism, civic partnerships and economic impact;
Acclaim as the leading university in the nation for cybersecurity studies in a survey of the industry experts conducted by the Ponemon Institute, and among the top two cybersecurity programs for graduate students in the U.S. by universities.com;
Ten-fold growth in the number of endowed faculty positions, from seven to more than 70, to attract and retain world-class faculty and researchers;
Record philanthropic support with more than $202 million raised to support student scholarships and faculty endowments in the university's first-ever capital campaign;
Expansion of the university footprint from 1.8 million square feet to 5.4 million square feet, and the acquisition of the Park West Athletics Complex, to support UTSA's growing student population;
Entry into NCAA football and record setting attendance of 56,743 for first-game attendance and 35,521 for single-season attendance by a startup program.
"I am privileged to have been at UTSA at one of the most exciting times in its history," said Romo. "Our progress as a university has been monumental. We are well on our way to Tier One, and it is closer than ever."
"This is the right time to hand the reins of leadership to a new president, knowing there is a solid foundation of excellence in place and tremendous momentum that will keep UTSA moving forward."
"I will always be grateful to the people of San Antonio for the incredible support they have given me and UTSA over the years, and I look forward to remaining their advocate for the continual improvement of educational opportunities in our community," said Romo.
Following a one-year sabbatical, Romo will return to UTSA as a historian at the UTSA Institute of Texan Cultures, telling the story of San Antonio's rich history and the role of the San Antonio Missions, which were recently designated a UNESCO World Heritage Site.
"Ricardo Romo has dedicated his life to education — from Texas to California and back again — but there is no place where his commitment is more evident than at UTSA. As a beloved, native son of San Antonio, President Romo has transformed UTSA to a thriving, destination university with nationally ranked academic programs, a blossoming football program and a growing reputation across the country. His impact on UTSA, and the university's impact on the City of San Antonio, will reverberate for decades to come," UT System Chancellor William H. McRaven said. "President Romo set UTSA on the path to Tier One status, a designation that will bring more research, discovery and opportunity to Texas, and that mission will be his legacy."
Under Romo, UTSA has also been integral to the region's quality of life and economic advancement. By creating a learning environment that promotes excellence, accessibility and affordability, students who might not otherwise have had the opportunity to attend college have earned a degree from UTSA.
Nearly half of all UTSA students are the first in their family to go to college and nearly 70 percent receive financial aid. With 70 percent of students remaining in San Antonio, a UTSA diploma has created better paying job opportunities for graduates and helped transform the San Antonio labor market.
Romo has led UTSA in the development of strong partnerships with leading San Antonio business and industries including Southwest Research Institute, Texas Biomedical Research Institute, the 24th Air Force and 25th Air Force, the National Security Agency, Rackspace, Microsoft and others. These joint efforts have advanced San Antonio's position as a biomedical, cybersecurity, cloud and big data leader.
UTSA contributes $1.2 billion annually to the local economy and supports nearly 16,000 jobs. Its faculty, staff and students contribute more than 900,000 hours to volunteer and community service efforts.
The UT System will begin a national search for a new president immediately.
-------------------------------
Learn more about UTSA President Ricardo Romo.
Learn about UTSA's growth from 1999 to present, during Ricardo Romo's service.
Through the years: Photos of Dr. Ricardo Romo's journey as UTSA President
Connect online at Facebook, Twitter, YouTube and Instagram.