UTSA hits the road to combat diabetes in San Antonio and South Texas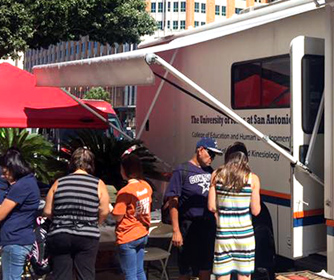 (Oct. 18, 2016) -- The Metropolitan Health Department reports that one in seven people in San Antonio lives with diabetes. Thousands more are at risk for developing the disease but may not know it. The University of Texas at San Antonio (UTSA) is working to stop the trend by sending top-tier researchers and students into communities to offer free preventative diabetes screenings and education.
The effort is known as the Roadrunner Diabetes Screening and Education (Roadrunner DSE) Project. It is a collaborative research and training initiative by faculty in the UTSA College of Education and Human Development's Department of Kinesiology, Health and Nutrition.
Each semester, UTSA faculty and students under the direction of Zenong Yin, Loretta J. Lowak Clarke Distinguished Professor in Health and Kinesiology, hit the road in a specialized recreational vehicle known as the UTSA Mobile Health Laboratory. The UTSA-affiliated faculty, students and community workers visit the South Texas populations that are most prone to developing type 2 diabetes – communities without easy access to prevention services. Since 2015, the mobile laboratory has made hundreds of stops at community centers, schools, flea markets and neighborhood events to provide screening and prevention services to the public free of charge.
Yin says that low-income and minority adults are 50 percent more likely than others to develop type 2 diabetes because of their diet, genetics and lack of access to prevention or education services. In Bexar County, more than half of the population is Hispanic or Latino, and about 20 percent of the population lives below the poverty line, according to the U.S. Census Bureau.
"The Roadrunner DSE Project aims to increase the knowledge and awareness of diabetes and prediabetes and promote healthy lifestyles among economically disadvantaged communities," said Yin. "The problem is that many people do not have easy access to screening services and do not seek them out. In order to effectively accomplish our goals, we must meet the individuals in need of our services in the places where they live."
UTSA students participating in the Roadrunner DSE Project gain first-hand training in community health program implementation and diabetes prevention efforts. To date, Yin and his fellow UTSA faculty, Sarah Ullevig, Erica Sosa and Meizi He, have trained more than 40 undergraduate and graduate students as UTSA Community Health Ambassadors. The faculty have also trained four certified community health workers to assist the project team.
The Roadrunner DSE Project's health programs are based on the type 2 diabetes screening and education guidelines recommended by the American Diabetes Association and the U.S. Preventive Services Task Force. The project's free health screening services are composed of a variety of tests, such as body weight checks, body composition assessments, blood glucose and blood pressure checks, fitness and physical activity tests, physical activity counseling, diet assessments and healthy eating counseling. Individuals shown at risk for diabetes are referred onto partner diabetes prevention and management programs from around the community, including those offered by the YMCA of Greater San Antonio and San Antonio Metro Health.
The project also hosts monthly community health education classes to teach its clients about topics such as diabetes risks, mental health, stress management and physical activity.
Yin estimates that UTSA faculty members, students and community workers have conducted diabetes and health screenings for more than 4,000 people across South Texas since last November, and they show no signs of stopping.
"It's been a thrilling experience interacting with the people throughout San Antonio who participated in our screenings," said Lizette Aviles, an undergraduate student working with the Roadrunner DSE Project as a UTSA Community Health Ambassador. "I love sharing this knowledge with my community and listening to their concerns. The Roadrunner DSE Project has expanded my understanding of how I can apply my experiences and knowledge to the real America and the communities that need it most."
The Roadrunner DSE Project has also recently begun a partnership with the University of Texas Health Science Center at San Antonio to extend its reach to rural communities along the U.S.-Mexico border.
— Jesus Chavez

--------------------------

About the Roadrunner Diabetes Screening and Education Project
The Roadrunner DSE Project is funded by Kronkosky Charitable Foundation, Firstmark Credit Union, and the San Antonio Area Foundation. It collaborates with several community health programs including the YMCA Diabetes Prevention Program, the Y Living Program by YMCA of Greater San Antonio and the Stanford Diabetes Self-Management Program by San Antonio Metro Health. 
For more information about the Roadrunner DSE Project, including class information and the UTSA Mobile Health Laboratory's schedule, contact Zenong Yin at 210-883-5542 or zenong.yin@utsa.edu.
Learn more about the UTSA College of Education and Human Development and the UTSA Department of Kinesiology, Health and Nutrition.
Connect online at Facebook, Twitter, YouTube and Instagram.