A Message from UTSA President Ricardo Romo, November 2016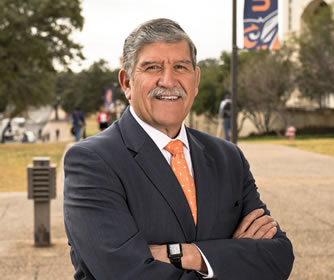 (November 22, 2016) -- Dear Friends,
Like you, each year at this time I take a few moments to reflect on all I have to be thankful for, especially family and friends. This Thanksgiving is particularly meaningful for me as I think about my time as UTSA president.
Every time I walk across campus and talk to our students, I am struck by their passion and perseverance. They come to UTSA with a dream of creating a better future for themselves and their families, and for our world. They are committed to excellence in their education and improving society through their professions, their talents and their service.
Betina Vega is one of those amazing students. This 23-year-old UTSA psychology/political science double major has been blind since birth. While at UTSA, she has been an advocate for other visually impaired students. She has devoted countless hours to meeting with them and offering advice about how to take advantage of the many resources the university has to offer. After she graduates next month, Betina is going to take the LSAT and is planning a career in law so she can help others with disabilities.
Rolando Garza is another inspiring student. The Uvalde, Texas native originally had his sights set on becoming a physician. But when he came to UTSA, he fell in love with research after studying the effects of diabetes in one of our immunology laboratories. This was particularly important research for Rolando, who was obese as a child. Now, instead of becoming a physician, where he says he can only help one patient at a time, he's building a career in diabetes research so he can develop new therapies and drugs.
Patrick Stockton also has a heart for service. This UTSA alumnus came from a town of just 25 people to pursue his engineering degree. As an undergraduate, he founded a start-up company to encourage children to pursue careers in science, technology, engineering and mathematics. Now a UTSA master's student, he's planning a career in computer chip design while continuing his STEM outreach to youth. You can innovate all you want, he says, but you have to remember to give back.
I never tire of hearing these kinds of stories. Our students are remarkable for their dedication to their education and for their commitment to creating a better world. We should all feel so confident about the future, knowing this is our next generation of leaders.
This holiday season, and year-round, I am so thankful for all of our students, and to everyone who has made a commitment to help them succeed.
Harriett and I wish you and your family a Happy Thanksgiving and the very best at this special time of year. We hope your holidays are filled with peace and joy.
Go 'Runners!
Ricardo Romo
President, The University of Texas at San Antonio
----------------------------
Connect online at Facebook, Twitter, YouTube and Instagram.