UTSA study describes new minimally invasive device to treat cancer and other illnesses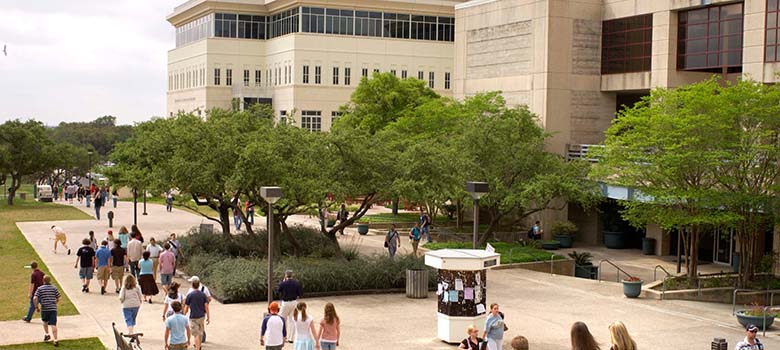 (Dec. 2, 2016) -- A new study by Lyle Hood, assistant professor of mechanical engineering at The University of Texas at San Antonio (UTSA), describes a new device that could revolutionize the delivery of medicine to treat cancer as well as a host of other diseases and ailments. Hood developed the device in partnership with Alessandro Grattoni, chair of the Department of Nanomedicine at Houston Methodist Research Institute.
"The problem with most drug-delivery systems is that you have a specific minimum dosage of medicine that you need to take for it to be effective," Hood said. "There's also a limit to how much of the drug can be present in your system so that it doesn't make you sick."
As a result of these limitations, a person who needs frequent doses of a specific medicine is required to take a pill every day or visit a doctor for injections. Hood's creation negates the need for either of these approaches, because it's a tiny implantable drug delivery system.
"It's an implantable capsule, filled with medicinal fluid that uses about 5000 nanochannels to regulate the rate of release of the medicine," Hood said. "This way, we have the proper amount of drugs in a person's system to be effective, but not so much that they'll harm that person."
The capsule can deliver medicinal doses for several days or a few weeks. According to Hood, it can be used for any kind of ailment that needs a localized delivery over several days or a few weeks. This makes it especially tailored for treating cancer, while a larger version of the device, which was originally created by Grattoni, can treat diseases like HIV for up to a year.
"In HIV treatment, you can bombard the virus with drugs to the point that that person is no longer infectious and shows no symptoms," Hood said. "The danger is that if that person stops taking their drugs, the amount of medicine in his or her system drops below the effective dose and the virus is able to become resistant to the treatments."
The capsule, however, could provide a constant delivery of the HIV-battling drugs to prevent such an outcome. Hood noted it can also be used to deliver cortisone to damaged joints to avoid painful, frequent injections, and possibly even to pursue immunotherapy treatments for cancer patients.
"The idea behind immunotherapy is to deliver a cocktail of immune drugs to call attention to the cancer in a person's body, so the immune system will be inspired to get rid of the cancer itself," he said.
The current prototype of the device is permanent and injected under the skin, but Hood is working with Teja Guda, assistant professor of biomedical engineering, to collaborate on 3-D printing technology to make a new, fully biodegradable iteration of the device that could potentially be swallowed.
-------------------------------


Read Lyle Hood's study,"Nanochannel Implants for Minimally-Invasive Insertion and Intratumoral Delivery."
Learn more about the UTSA Department of Mechanical Engineering.
Learn more about the UTSA Department of Biomedical Engineering.
Connect with UTSA online at Facebook, Twitter, YouTube and Instagram.
Events
Jenny Hsieh, professor and Semmes Foundation Chair in Cell Biology and director, UTSA Brain Health Consortium provides an engaging look into the world of gene editing.
South Texas Research Facility, 8403 Floyd Curl Dr., San Antonio
UTSA will offer science, engineering, architecture, sports, music, writing and language and culture camps for kids, teens and adults.  Register now.
Various locations, Main and Downtown Campuses
Future Roadrunners and families prepare for everything they need to know before the fall semester.
Various locations, Main and Downtown Campuses
Join us for cupcakes and lots of Roadrunner spirit as we celebrate the day UTSA was created by the Texas Legislature.
Sombrilla, Main Campus and Frio Street Commons, Downtown Campus
Join us as we celebrate this momentoud day in UTSA history by paying homage to the moment Governor Preston Smith signed the legislation creating UTSA exactly 50 years ago on June 5, 1969.
The Alamo, 300 Alamo Plaza, San Antonio
The State of Hand Stitch is a survey of eleven women artists in Texas working with thread and needle at a time when embroidery is increasingly recognized as a medium of choice by serious artists. Opening reception is June 5 at 5pm. Exhibit continues through Aug. 9.
Arts Building, Main Art Gallery (ART 2.03.04), Main Campus
For the 48th year, the ITC brings culture to life with music, dance, artisanship, food and hands-on experiences that connect Texans to their roots.
UTSA Institute of Texan Cultures, Hemisfair Campus
The fifth annual SAMHS and Universities Research Forum (SURF) is a regional event that highlights the latest research and discoveries of trainees, faculty, staff and students working to improve health outcomes.
H-E-B Student Union Ballroom (HSU 1.106),Main Campus
---