UTSA, San Antonio Express-News, KLRN-9 to host town hall meeting on Jan. 26 to discuss Texas sanctuary cities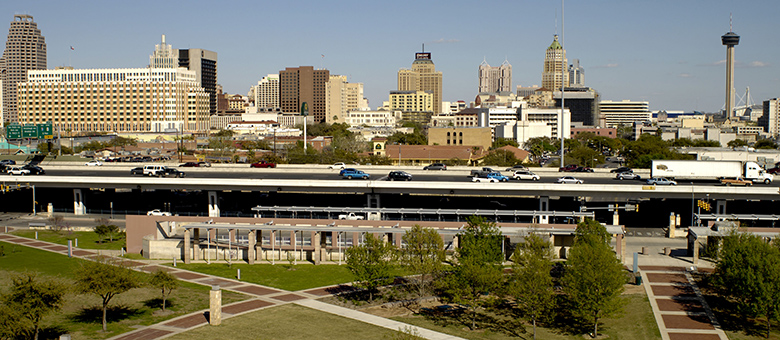 (Jan. 23, 2017) -- The University of Texas at San Antonio (UTSA), the San Antonio Express-News and KLRN-9 will host a town hall meeting to explore policy related to sanctuary cities at 7 p.m., Thursday, Jan. 26 in the Buena Vista Street Building Theater (BVB 1.326) at the UTSA Downtown Campus. The event, Sanctuary Cities: State rules versus Local Control, is free and open to the public.
Texas Gov. Greg Abbott and many other conservative Texas lawmakers have vowed to make it a priority to end sanctuary cities in Texas during the 2017 legislative session. Prior to the start of the session, Gov. Abbott pledged to pass Senate Bill 4, which would effectively end sanctuary cities in the state by requiring local law enforcement agencies and governments to fully enforce existing federal immigration laws. The legislation was introduced in November by Senator Charles Perry (R-Lubbock).
UTSA, the San Antonio Express-News and KLRN-9 have partnered to develop town hall meetings that provide forums for San Antonians to become engaged in the most pressing issues of our community.
Four panelists will explore the implications of Senate Bill 4, and related immigration policies, during the upcoming forum. They include:
William McManus, San Antonio Police Department Chief of Police
Diego Bernal, State Representative (D-San Antonio)
Jeff Judson, former board member, The Heartland Institute
Robert Stovall, Chairman, Republican Party of Bexar County
Francine Romero, UTSA associate professor and associate dean of the College of Public Policy, will moderate. She will also collect questions from members of the audience before the event begins. To submit a question, arrive early and fill out a Q&A card provided by the San Antonio Express-News. Doors close at 6:45 p.m.
Free event parking will be available in unmarked spaces of lot D-3, beneath IH-35.
Seating has reached full capacity. You can watch online live here or on KLRN-9 on Feb. 5 at 1 p.m.
-------------------------------
Connect with UTSA online at Facebook, Twitter, YouTube, Instagram and LinkedIn.
Events
This UTSA student exhibit features the work of anthropology students who have examined the effects tourism has on local culture.
UTSA Institute of Texan Cultures, Hemisfair Campus
Students from grades 9 to 12 at Brooks Academy of Science and Engineering delved into their family histories and turned their family photos into artworks.
UTSA Institute of Texan Cultures, Hemisfair Campus
UTSA's John Nix invites the community to sing "Amazing Grace" and "We Shall Overcome" at 11 a.m. on Martin Luther King Jr. Day. The intent of this nationwide effort is to honor Dr. King's legacy and to spread a sense of community in the United States.    
Locations throughout the United States
The annual event features authentic foods, music, dance, martial arts, shopping, games and entertainment from China, to the Indian Sub-continent, and the island nations of the Pacific. The Festival features two stages, a martial arts demonstration area, children's hands on crafting area, anime activities, bonsai and ikebana displays, mahjong table and more.
UTSA Institute of Texan Cultures, Hemisfair Campus
Level up your career with a graduate business degree from the UTSA College of Business. Join us for this Open House to learn which of our 13 degree programs is right for you.
Business Building (BB 2.06.04), Main Campus
Basura Bash is a one-day, all-volunteer event to clean the San Antonio Watershed. For the past 24 years volunteers have cleaned area waterways. Join the UTSA community for the 25th Annual Basura Bash Waterways Cleanup.
Maverick Creek, near Brackenridge Lot 5, Main Campus
UTSA Day is an Open House and one of the best ways to see what it is like to be part of the UTSA Family! Schedule a visit the way you want, based on your interests and time. Learn more about the next steps on becoming a Roadrunner!
Various locations, Main Campus
Diploma Dash is a fast, certified 5k course for runners and a scenic route around Main Campus for walkers, strollers and dogs! There are individual and team prizes. Benefits UTSA students through the UTSA Alumni Association scholarship program.
UTSA Main Campus
---