UTSA, San Antonio Express-News, KLRN-9 to host town hall meeting on Jan. 26 to discuss Texas sanctuary cities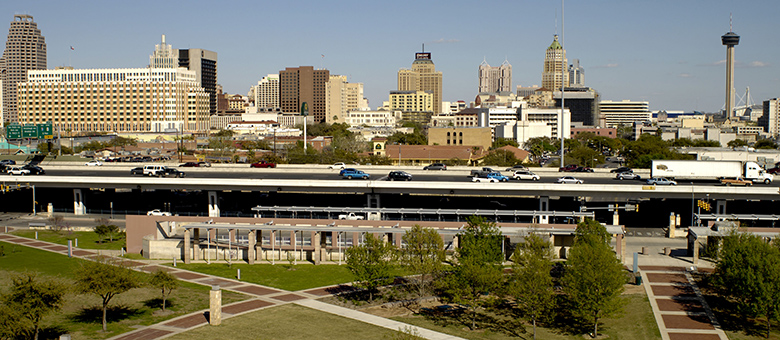 (Jan. 23, 2017) -- The University of Texas at San Antonio (UTSA), the San Antonio Express-News and KLRN-9 will host a town hall meeting to explore policy related to sanctuary cities at 7 p.m., Thursday, Jan. 26 in the Buena Vista Street Building Theater (BVB 1.326) at the UTSA Downtown Campus. The event, Sanctuary Cities: State rules versus Local Control, is free and open to the public.
Texas Gov. Greg Abbott and many other conservative Texas lawmakers have vowed to make it a priority to end sanctuary cities in Texas during the 2017 legislative session. Prior to the start of the session, Gov. Abbott pledged to pass Senate Bill 4, which would effectively end sanctuary cities in the state by requiring local law enforcement agencies and governments to fully enforce existing federal immigration laws. The legislation was introduced in November by Senator Charles Perry (R-Lubbock).
UTSA, the San Antonio Express-News and KLRN-9 have partnered to develop town hall meetings that provide forums for San Antonians to become engaged in the most pressing issues of our community.
Four panelists will explore the implications of Senate Bill 4, and related immigration policies, during the upcoming forum. They include:
William McManus, San Antonio Police Department Chief of Police
Diego Bernal, State Representative (D-San Antonio)
Jeff Judson, former board member, The Heartland Institute
Robert Stovall, Chairman, Republican Party of Bexar County
Francine Romero, UTSA associate professor and associate dean of the College of Public Policy, will moderate. She will also collect questions from members of the audience before the event begins. To submit a question, arrive early and fill out a Q&A card provided by the San Antonio Express-News. Doors close at 6:45 p.m.
Free event parking will be available in unmarked spaces of lot D-3, beneath IH-35.
Seating has reached full capacity. You can watch online live here or on KLRN-9 on Feb. 5 at 1 p.m.
-------------------------------
Connect with UTSA online at Facebook, Twitter, YouTube, Instagram and LinkedIn.
Events
The third ceremony, scheduled at 2 p.m. on May 19, will recognize graduates from the College of Education and Human Development, College of Sciences and College of Public Policy.
Alamodome, 100 Montana St., San Antonio
Jenny Hsieh, professor and Semmes Foundation Chair in Cell Biology and director, UTSA Brain Health Consortium provides an engaging look into the world of gene editing.
South Texas Research Facility, 8403 Floyd Curl Dr., San Antonio
UTSA will offer science, engineering, architecture, sports, music, writing and language and culture camps for kids, teens and adults.  Register now.
Various locations, Main and Downtown Campuses
Future Roadrunners and families prepare for everything they need to know before the fall semester.
Various locations, Main and Downtown Campuses
Join us for cupcakes and lots of Roadrunner spirit as we celebrate the day UTSA was created by the Texas Legislature.
Sombrilla, Main Campus and Frio Street Commons, Downtown Campus
Join us as we celebrate this momentoud day in UTSA history by paying homage to the moment Governor Preston Smith signed the legislation creating UTSA exactly 50 years ago on June 5, 1969.
The Alamo, 300 Alamo Plaza, San Antonio
The State of Hand Stitch is a survey of eleven women artists in Texas working with thread and needle at a time when embroidery is increasingly recognized as a medium of choice by serious artists. Opening reception is June 5 at 5pm. Exhibit continues through Aug. 9.
Arts Building, Main Art Gallery (ART 2.03.04), Main Campus
For the 48th year, the ITC brings culture to life with music, dance, artisanship, food and hands-on experiences that connect Texans to their roots.
UTSA Institute of Texan Cultures, Hemisfair Campus
---