UTSA researcher: Do children eat less junk food if they're breastfed longer?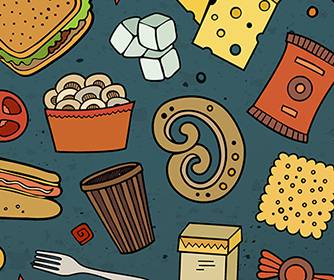 (Feb. 2, 2017) -- Breastfeeding for longer could help some children curb their junk food intake later in life, according to new UTSA research published in Public Health Nutrition.
Dylan B. Jackson, a criminal justice professor in the UTSA College of Public Policy, and his colleague, Kecia R. Johnson of Mississippi State University, studied data from the U.S. Department of Education related to the development of 10,000 American children from birth to age five. They hoped to determine whether infant breastfeeding, paired with family socioeconomics, would impact junk food consumption in children.
Jackson and his collaborator were also interested in examining whether race and ethnicity would affect their research findings, particularly among white, Hispanic and black families.
The researchers used data compiled over several years by the National Center for Education Statistics to review key points during the development of 10,000 children. Between ages nine months and two years, mothers were asked whether they breastfed their child and, if so, for how long. By the time the children were in kindergarten, those same parents were asked to report the frequency of their children's junk food consumption over a seven-day period.
Junk food, in this case, was defined as fast food, soda/other sugary beverages, salty snacks or sweets. Families were categorized as being low or high in socioeconomic status.
Across racial and ethnic groups, the researchers found that breastfeeding duration had little to no effect on the junk food consumption of children from high socioeconomic families.
However, Jackson and Johnson found that breastfeeding was associated with less frequent junk food consumption among black children of low socioeconomic status.
"Being breastfed was consistently associated with lower junk food intake across all junk food types among black children of low socioeconomic status," Jackson said. "Black mothers, however, tend to breastfeed less and for shorter durations than other mothers in the sample."
The researchers urge future studies on the topic to explore the mechanisms that might further explain their findings.
"Black women have historically been the least likely to initiate and continue breastfeeding compared with other racial and ethnic groups in the U.S.," Jackson said. "There are a variety of social, historical and cultural reasons for it. Based on our findings, there are significant and consistent connections between duration of breastfeeding and appetite for junk food among black children of low socioeconomic status, however."
The researchers hope to identify and promote strategies that assist women in their efforts to breastfeed should be made. Their goal is to create a healthier future for children, particularly black children from low socioeconomic families.
In particular, Jackson and Johnson point to the federal Women, Infants and Children (WIC) special supplemental nutrition program as a useful point of intervention since black women are often overrepresented among WIC participants. The WIC program also offers breastfeeding peer counseling services, which could serve as an added opportunity for educational, emotional and social support for mothers.
UTSA is ranked among the top 400 universities in the world and among the top 100 in the nation, according to Times Higher Education.
-------------------------------
Learn about the UTSA Department of Criminal Justice, based in the College of Public Policy.
Connect with UTSA online at Facebook, Twitter, YouTube, Instagram and LinkedIn.
Events
This UTSA student exhibit features the work of anthropology students who have examined the effects tourism has on local culture.
UTSA Institute of Texan Cultures, Hemisfair Campus
Students from grades 9 to 12 at Brooks Academy of Science and Engineering delved into their family histories and turned their family photos into artworks.
UTSA Institute of Texan Cultures, Hemisfair Campus
All UTSA students, faculty, staff, alums & families are invited to march as a unified community. Register here: bit.ly/2TYbHbR. Shuttles will be provided from the Main and Downtown Campuses.  
Martin Luther King, Jr. Academy, 3501 MLK Dr., San Antonio
UTSA's John Nix invites the community to sing "Amazing Grace" and "We Shall Overcome" at 11 a.m. on Martin Luther King Jr. Day. The intent of this nationwide effort is to honor Dr. King's legacy and to spread a sense of community in the United States.    
Locations throughout the United States
The annual event features authentic foods, music, dance, martial arts, shopping, games and entertainment from China, to the Indian Sub-continent, and the island nations of the Pacific. The Festival features two stages, a martial arts demonstration area, children's hands on crafting area, anime activities, bonsai and ikebana displays, mahjong table and more.
UTSA Institute of Texan Cultures, Hemisfair Campus
Level up your career with a graduate business degree from the UTSA College of Business. Join us for this Open House to learn which of our 13 degree programs is right for you.
Business Building (BB 2.06.04), Main Campus
Basura Bash is a one-day, all-volunteer event to clean the San Antonio Watershed. For the past 24 years volunteers have cleaned area waterways. Join the UTSA community for the 25th Annual Basura Bash Waterways Cleanup.
Maverick Creek, near Brackenridge Lot 5, Main Campus
UTSA Day is an Open House and one of the best ways to see what it is like to be part of the UTSA Family! Schedule a visit the way you want, based on your interests and time. Learn more about the next steps on becoming a Roadrunner!
Various locations, Main Campus
---