UTSA, Alamo Colleges and high school students collaborate to uncover galactic mysteries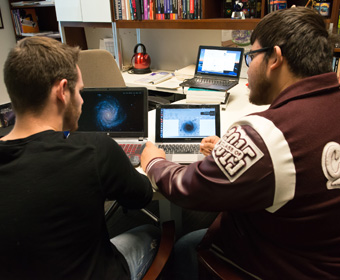 (Feb. 6, 2017) -- An eclectic group of high school and college students led by Eric Schlegel, Vaughan Family Endowed Professor in Physics at The University of Texas at San Antonio (UTSA), has published a series of abstracts detailing their efforts to map the contents of a trio of spiral galaxies. The students, ranging from high school seniors to college seniors, are mapping signals emitted by the galaxies in an effort to better understand our own starry environment.
"The goal is to find the sources of these signals in these galaxies and to identify what those objects are," Schlegel said.
The students, guided by Schlegel, are studying one very well-researched galaxy, NGC 300, which is one of the closest galaxies to our own, in addition to two lesser-known bodies, NGC 1232 and NGC 3938. The group analyzed data from the Chandra X-ray Observatory, a NASA satellite in orbit around the planet, and mapped signals from within the galaxies, basing their characterizations on the consistency of the signals.
"By analyzing the energy of the light from the galaxies, we can understand what they might be," said Oscar Cantua, a UTSA sophomore and physics major. "Black holes and neutron stars are more inconsistent in the way they shine, whereas the more persistent signals are usually remnants of a supernova."
Cantua, who came to UTSA as part of the Top Scholars program, has aspired to be a part of mission control at NASA since meeting legendary flight director Gene Kranz at the Johnson Space Center in high school. Being able to reach for the stars as an undergraduate researcher at UTSA, he said, is bringing him closer to his dream.
"I feel like I'm very fortunate," he said. "It's been very exciting."
Cantua is working with Tyler Rucas, an Alamo Colleges student who has been gaining first-hand research experience through the Louis Stokes Alliance Minority Participation Ciencia, Ingeniería y Matemáticas Aliados (LSAMP-CIMA) program. The program is a partnership between UTSA and Alamo Colleges that provides community college students with the opportunity to work in top-tier research laboratories. Rucas eventually wants to earn his Ph.D. in physics at UTSA, but for now is enjoying his experience delving into the mysteries of nearby galaxies.
"This work is important," Rucas said. "By studying these galaxies we can find out more about our own galaxy and where we come from."
UTSA physics seniors Kevin Turner and Dale Bobar both said they're enjoying the collaborative experience of undergraduate research.
"The research is exciting, but the experience has been very educational as well," Bobar said. "Initially we were researching one galaxy and that project didn't work out. It was disappointing, but it was very good to see that side of research and to learn that sometimes you have to readjust and do something else."
Bobar stressed the importance of UTSA undergraduates asking professors for research opportunities.
"It's rare for students at this level to be able to participate in work like this," he said. "It's important to get into a lab as early as possible."
Schlegel is also working with Kelsey Buhidar, an aspiring Roadrunner who is currently a senior at John Jay Science and Engineering Academy. She contacted Schlegel last fall as part of an independent study course that required her to interview professionals in a field she was interested in becoming a part of.
"Dr. Schlegel was very nice and interesting, of course," she said. "I was nervous, but I asked if he could mentor me and thankfully he said yes."
Buhidar, who has been fascinated by astrophysics since kindergarten, is motivated by understanding the mysteries of the universe, excited by the fact that there are still so many.
"It interests me that the universe is so big, but there's still so much to be learned," she said. "It's this new frontier, and so much of what makes up our universe is hardly understood at all."
Schlegel and his students presented their research to the American Astronomical Society in January, and plan on publishing a full study later this year.
-------------------------------
Learn more about the UTSA Department of Physics and Astronomy.
Learn more about the UTSA Top Scholar program.
Learn more about the LSAMP-CIMA program.
Connect with UTSA online at Facebook, Twitter, YouTube, Instagram and LinkedIn.