Hispanic Outlook recognizes UTSA among nation's top 10 graduate schools for Hispanics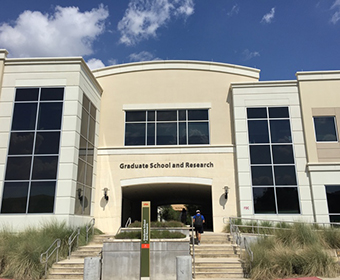 (April 19, 2017) -- The University of Texas at San Antonio (UTSA) has been recognized as one of the nation's top 10 graduate schools for Hispanics by The Hispanic Outlook on Education (HOHE) Magazine. The magazine published its annual rankings in its April 2017 issue.
Every year, Hispanic Outlook magazine releases an index of the Top 25 Graduate Schools for Hispanics from two lists from the Department of Education: total graduate degrees granted and graduate student enrollment.
According to the data collected, 1,174 master's degrees awarded at UTSA in 2015 and 432 (37 percent) were awarded to Hispanic students.
The UTSA Graduate School currently offers more than 110 master's, doctoral and graduate certificate programs, including the UTSA graduate program in cybersecurity, which is ranked No. 2 in the nation, and its nationally recognized M.B.A. programs.
The Graduate School promotes and supports educational and professional development through the Graduate Student Professional Development Center, where students and alumni can network, utilize advising services and prepare for advancement in their careers.
More than 4,000 graduate students are enrolled across seven academic colleges including the College of Architecture, Construction & Planning; Business; Education & Human Development; Engineering; Liberal & Fine Arts; Public Policy and Sciences.
UTSA is ranked among the top 400 universities in the world and among the top 100 in the nation, according to Times Higher Education.
-------------------------------
Learn more about the recognition in Hispanic Outlook on Education.
Learn more about the UTSA Graduate School.
Connect with UTSA online at Facebook, Twitter, YouTube, Instagram and LinkedIn.