UTSA student-led team receives NSF grant to develop vein-finding medical device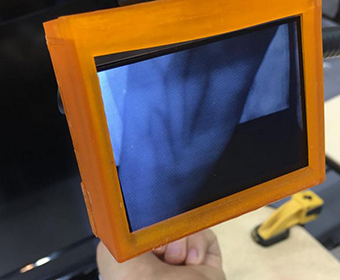 (April 3, 2017) -- A student-led team from The University of Texas at San Antonio (UTSA) is the beneficiary of a $50,000 grant to UTSA's CITE program from the National Science Foundation (NSF) to support the continued development of their infrared medical camera, InfraVein, which makes simple work of finding veins. As a result of the grant, the team will be heading to Boston for the NSF I-Corps this month to test the business model of InfraVein and explore how to market the device.
"With this opportunity in Boston, I hope to experience how to interact with different customer segments and to use their feedback in order to develop our technology further," said Sanjiv Patel, a team-member and masters student in biomedical engineering.
The students will attend the NSF I-Corps seminar series, which supports entrepreneurship that leads to the commercialization of the technology previously supported by NSF-funded research.
The original team of engineering and business undergraduate students included Kristen Hamalainen '16, Sanjiv Patel '16, Andrew Shiels '16, Kreg Zimmern '16, Rachel Loeffler '16, Cody Baker '16, Alexis Morales '16 and Ileana Gonzales '16. The group won the top prize at the UTSA Center for Innovation, Technology and Entrepreneurship (CITE) $100K Student Technology Venture Competition last spring is a collaboration between the UTSA College of Engineering and College of Business.
"It's always exciting to see students who succeeded at the competition continue growing their ideas and expanding their business," said Cory Hallam, director of CITE and UTSA chief commercialization officer. "These are entrepreneurs who are getting their start as undergraduates, and this is just one of many examples of students taking advantage of a great opportunity and making the most of it."
The idea to create a device that could help medics locate veins came about while the biomedical engineering students were working on their senior design project. The idea to help military medics came about because San Antonio has a strong connection to the military.
The team discussed what would be possible and beneficial on the battlefield with doctors from the Institute for Surgical Research (ISR) at the San Antonio Military Medical Center (SAMMC) and Department of Emergency Medicine at UT Health San Antonio.
The UTSA students have discovered that their device had many possible applications, from helping doctors insert needles in people with small veins or aiding in catheter insertion. The device can also be used by people who are obese or have darker skin pigmentations, or for babies whose tiny veins can be hard for medical professionals to find and access.
"Our students have the true spirit of entrepreneurs and engineers," said Teja Guda, assistant professor of biomedical engineering and assistant director of CITE for the College of Engineering. "They saw a need and they created a tool to fill that need. It's been wonderful to see them continue to grow and develop their business."
CITE is sending Zimmern and Patel to Boston in April to test InfraVein with 100 possible customer interviews. This will give them the chance to improve their product by defining issues users currently face and ensuring that their product checks all the right boxes.
"The UTSA CITE program gives our students an interdisciplinary educational experience unlike most other universities," said Hallam. "They get a chance to patent their invention while they are still undergraduates and the opportunity to launch their company and incubate it on campus. By working with the CITE and challenging themselves they helped secure a $50,000 NSF grant to explore the marketability of their product. They represent the 10th UTSA team to be awarded one of these NSF grants in the past two years, a feat that reinforces UTSA's prominence as the regional hub for university-based innovation and entrepreneurship."
Guda has mentored the team since the competition began. He and Hallam will be accompanying the young entrepreneurs on their trip to offer advice during the customer discovery process.
"There are multiple teams of both undergraduates and graduates that have gone through the entrepreneurship and innovation core here at UTSA," said Guda. "It is a pipeline that is set up and brings about a change in the cultural in terms of contributing back to both the university and the San Antonio area. When these students' small companies are formed, they are not only contributing to the economy, but they are showing exactly what UTSA alums can achieve because that is what they have done as part of their training process."
The CITE program was established in 2006 to create a pipeline for UTSA students, faculty and the surrounding business community to develop new technology ventures. Through a process including education, experience, resources and support, CITE is focused on fostering the growth of new technology-based ventures in the region.
UTSA is ranked among the top 400 universities in the world and among the top 100 in the nation, according to Times Higher Education.
-------------------------------
Learn more about the InfraVein.
Learn more about the $100K Student Technology Venture Competition.
Connect with UTSA online at Facebook, Twitter, YouTube, Instagram and LinkedIn.