Meet a Roadrunner: Kim Kyle is a passionate supporter of UTSA students and Fiesta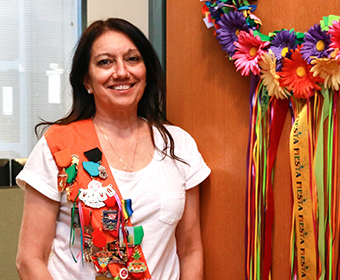 (April 19, 2017) -- Meet Kim Kyle. She's a senior administrative associate for the UTSA Department of Management Science and Statistics who loves working with students and helping them achieve their goals.
Kyle started at UTSA in a temporary position with the math department. She loved UTSA so much that she permanently joined the College of Business in November 2005. Over the years, she's provided support to hundreds of Roadrunners and their professors.
Kyle is especially focused on helping students get into the classes they need to graduate on time.
"I will do my absolute best to help however I can, whether it be getting a larger room for a class, talking to the professors, helping students register as soon as possible or answering any questions they may have and sending them in the right direction," she said.
Along with her passion for helping students, Kyle also has a deep love for San Antonio's biggest celebration -- Fiesta. Born and raised in San Antonio for most of her life, she recalls watching the parades as a little girl and admiring the different events that happen all over the city.
As an adult, she participates in many official Fiesta events and has even marched in several parades. She enjoys collecting and trading Fiesta medals, volunteering at events such as NIOSA and Oysterbake, and attending all the parades.
"I love the happiness and excitement Fiesta brings to the city every year. It truly is a party with a purpose."
When she isn't attending or volunteering at events, Kyle brings the Fiesta spirit to UTSA. She has her medals proudly displayed at her desk, a festive wreath decorating the office door and her nails painted in Fiesta colors. During the two-week celebration, she also wears a sash that is covered front to back with medals.
Fiesta UTSA is one of her favorite official Fiesta events.
"I love that UTSA brings the celebration to campus. I make it a point to attend every year to take it all in and to see the Fiesta Royalty make their appearance."
With Fiesta planning in full swing, she's had to make a few adjustments to her agenda this year. Kyle's daughter is getting married on April 22, the same day as Oysterbake. It's one of the few exceptions that she's willing to make to miss the Fiesta tradition.
"Even though I'm sad about missing Oysterbake this year, I couldn't be happier to celebrate my daughter, Brittany, and her soon-to-be husband, Jonathan, on their big day," she said.
Brittany and Jonathan work and met at UTSA, so being a Roadrunner is a family affair.
As part of the Roadrunner community, Kyle says that she's grown as a person just as much as she's watched her students succeed.
"I wouldn't be where I am today without UTSA. I've learned how to help students in many different ways and will do all I can to see them be successful during their time here. My priority is to do what I can to make a difference any way I can."
-------------------------------
Do you know a Roadrunner who is achieving great things? Email us at social@utsa.edu so that we may consider your suggestion for our next installment of Meet a Roadrunner.
Connect with UTSA online at Facebook, Twitter, YouTube, Instagram and LinkedIn.