#UDesign2017 Parking Permit Design Contest winners announced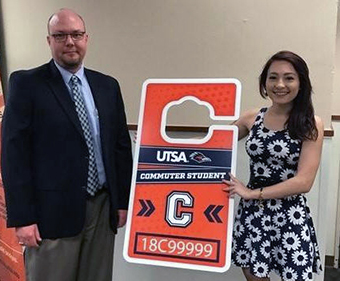 (April 17, 2017) -- The University of Texas at San Antonio (UTSA) parking permit is getting a fresh look and the new design was created by a fellow Roadrunner. UTSA Campus Services held the #UDesign2017 Parking Permit Design Contest earlier this semester and received a record number of submissions. UTSA students shared 50 unique and artistic designs. Campus Services representatives met over spring break to vote on the winning design.
First place: Jasmine Goodsaid's creative and bold design won her a student garage parking permit of her choice for the 2017-18 academic year. In addition, her design will be featured on all parking permits across campus. Goodsaid is a marketing major and the graphic designer for the UTSA Student Government Association and for Student Activities. She said her design was inspired by UTSA football games, including a sense of team spirit and collegiate involvement.
Second place: Mariah Villarreal, a communications major and San Antonio native. As a runner up, Villarreal won a $100 FastPass, good for 50 hours of parking in a garage.
Third place: Joey Barrera, a Campus Services employee and full-time student majoring in art. Barrera took home a Campus Services swag bag.
"Campus Services values the opportunity to involve students in the behind the scenes process of creating parking permits," said Clay Haverland, assistant vice president for UTSA Campus Services. "With permits displayed in thousands of vehicles across all three campuses, the winning design receives a high level of exposure at UTSA and around San Antonio. The #UDesign Parking Permit Design Contest provides a unique and unexpected outlet to share UTSA students' amazing work with the community."
UTSA students, faculty and staff can purchase a 2017-18 parking permit now, but have the option to pay later. Parking permit prices will not increase for the upcoming year.
>> View the new Main Campus parking map for the 2017-2018 academic year.
Campus Services plans to continue the parking permit design contest tradition. Keep an eye out next spring for information on #UDesign2018.
-------------------------------
For questions regarding Campus Services, call (210) 458-7275 or email campusservices@utsa.edu.
Connect with UTSA online at Facebook, Twitter, YouTube, Instagram and LinkedIn.