#UDesign2017 Parking Permit Design Contest winners announced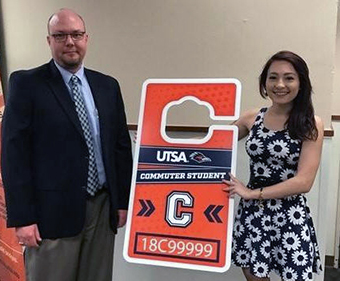 (April 17, 2017) -- The University of Texas at San Antonio (UTSA) parking permit is getting a fresh look and the new design was created by a fellow Roadrunner. UTSA Campus Services held the #UDesign2017 Parking Permit Design Contest earlier this semester and received a record number of submissions. UTSA students shared 50 unique and artistic designs. Campus Services representatives met over spring break to vote on the winning design.
First place: Jasmine Goodsaid's creative and bold design won her a student garage parking permit of her choice for the 2017-18 academic year. In addition, her design will be featured on all parking permits across campus. Goodsaid is a marketing major and the graphic designer for the UTSA Student Government Association and for Student Activities. She said her design was inspired by UTSA football games, including a sense of team spirit and collegiate involvement.
Second place: Mariah Villarreal, a communications major and San Antonio native. As a runner up, Villarreal won a $100 FastPass, good for 50 hours of parking in a garage.
Third place: Joey Barrera, a Campus Services employee and full-time student majoring in art. Barrera took home a Campus Services swag bag.
"Campus Services values the opportunity to involve students in the behind the scenes process of creating parking permits," said Clay Haverland, assistant vice president for UTSA Campus Services. "With permits displayed in thousands of vehicles across all three campuses, the winning design receives a high level of exposure at UTSA and around San Antonio. The #UDesign Parking Permit Design Contest provides a unique and unexpected outlet to share UTSA students' amazing work with the community."
UTSA students, faculty and staff can purchase a 2017-18 parking permit now, but have the option to pay later. Parking permit prices will not increase for the upcoming year.
>> View the new Main Campus parking map for the 2017-2018 academic year.
Campus Services plans to continue the parking permit design contest tradition. Keep an eye out next spring for information on #UDesign2018.
-------------------------------
For questions regarding Campus Services, call (210) 458-7275 or email campusservices@utsa.edu.
Connect with UTSA online at Facebook, Twitter, YouTube, Instagram and LinkedIn.
Events
De-stress during Finals Week with UTSA Libraries' Relaxation Stations, located at John Peace Library on the second floor, and at the Downtown Library. The Relaxation Stations will include puzzles, coloring and more from Dec. 6-Dec. 14.
John Peace Library, second floor and Downtown Library, Main and Downtown Campuses
This UTSA student exhibit features the work of anthropology students who have examined the effects tourism has on local culture.
UTSA Institute of Texan Cultures, Hemisfair Campus
Students from grades 9 to 12 at Brooks Academy of Science and Engineering delved into their family histories and turned their family photos into artworks.
UTSA Institute of Texan Cultures, Hemisfair Campus
The first ceremony begins at 10 a.m. honors graduates from the College of Architecture, Construction and Planning, College of Business, College of Education and Human Development and College of Public Policy.
Alamodome, 100 Montana St., San Antonio
At 4 p.m., the second ceremony will be held to honor graduates from the College of Engineering, College of Liberal and Fine Arts, College of Science and the University College.
Alamodome, 100 Montana St., San Antonio
UTSA's John Nix invites the community to sing "Amazing Grace" and "We Shall Overcome" at 11 a.m. on Martin Luther King Jr. Day. The intent of this nationwide effort is to honor Dr. King's legacy and to spread a sense of community in the United States.    
Locations throughout the United States
The annual event features authentic foods, music, dance, martial arts, shopping, games and entertainment from China, to the Indian Sub-continent, and the island nations of the Pacific. The Festival features two stages, a martial arts demonstration area, children's hands on crafting area, anime activities, bonsai and ikebana displays, mahjong table and more.
UTSA Institute of Texan Cultures, Hemisfair Campus
Level up your career with a graduate business degree from the UTSA College of Business. Join us for this Open House to learn which of our 13 degree programs is right for you.
Business Building (BB 2.06.04), Main Campus
---