UTSA launches first fully online degree program in cybersecurity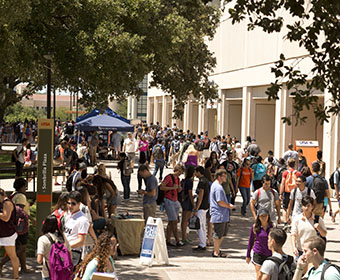 (April 4, 2017) -- In the fall of 2017, The University of Texas at San Antonio (UTSA) will begin offering its first fully online degree program, which will allow students to earn a B.B.A. in cybersecurity through the internet.
The Ponemon Institute has previously ranked UTSA's overall cybersecurity programs No. 1 in the nation, based on a survey of IT executives, and the university's academic and research programs are recognized for excellence by the National Security Agency (NSA) and the Department of Homeland Security (DHS).
"The College of Business is proud to support UTSA's online initiatives by offering our cybersecurity degree program in this innovative format," said Wm. Gerard Sanders, dean and Bodenstedt Chair of the UTSA College of Business. "It will allow us to create a professional pathway for even more students into this burgeoning job market."
Students in the online degree program will have access to the same vast cybersecurity expertise that UTSA students currently experience on-campus. Students will also earn badges and micro-certificates along the way, providing additional relevance to the job market.
"Cybersecurity is an industry where well-trained professionals with relevant experience are high in-demand," said Yoris Au, chair of the UTSA Department of Information Systems and Cyber Security. "This program will also give them the business expertise they need to succeed in their professions."
Au noted that graduates of UTSA cybersecurity programs go on to work at security firms as well as government agencies like the NSA, CIA and FBI and for major business corporations such as USAA, Rackspace and H-E-B.
"Now students from all over the United States will be able to access these educational opportunities, even if they don't live near San Antonio," he said.
Partnering with the University of Texas System's innovation department, the new online degree program is supported by Total Educational Experience (TEx), a web-based learner platform that guides students on personalized journeys throughout their lifetime.
"More and more industries are hiring applicants with cyber security skills and knowledge," said Au. "By making our B.B.A. in Cyber Security available online, we will be able to prepare more students and connect them with these in-demand jobs."
UTSA is ranked among the top 400 universities in the world and among the top 100 in the nation, according to Times Higher Education.
-------------------------------
Learn more about the online B.B.A. in Cyber Security.
Learn more about cybersecurity at UTSA.
Learn more about the UTSA Department of Information Systems and Cyber Security.
Connect with UTSA online at Facebook, Twitter, YouTube, Instagram and LinkedIn.
Events
De-stress during Finals Week with UTSA Libraries' Relaxation Stations, located at John Peace Library on the second floor, and at the Downtown Library. The Relaxation Stations will include puzzles, coloring and more from Dec. 6-Dec. 14.
John Peace Library, second floor and Downtown Library, Main and Downtown Campuses
This UTSA student exhibit features the work of anthropology students who have examined the effects tourism has on local culture.
UTSA Institute of Texan Cultures, Hemisfair Campus
Students from grades 9 to 12 at Brooks Academy of Science and Engineering delved into their family histories and turned their family photos into artworks.
UTSA Institute of Texan Cultures, Hemisfair Campus
The first ceremony begins at 10 a.m. honors graduates from the College of Architecture, Construction and Planning, College of Business, College of Education and Human Development and College of Public Policy.
Alamodome, 100 Montana St., San Antonio
At 4 p.m., the second ceremony will be held to honor graduates from the College of Engineering, College of Liberal and Fine Arts, College of Science and the University College.
Alamodome, 100 Montana St., San Antonio
UTSA's John Nix invites the community to sing "Amazing Grace" and "We Shall Overcome" at 11 a.m. on Martin Luther King Jr. Day. The intent of this nationwide effort is to honor Dr. King's legacy and to spread a sense of community in the United States.    
Locations throughout the United States
The annual event features authentic foods, music, dance, martial arts, shopping, games and entertainment from China, to the Indian Sub-continent, and the island nations of the Pacific. The Festival features two stages, a martial arts demonstration area, children's hands on crafting area, anime activities, bonsai and ikebana displays, mahjong table and more.
UTSA Institute of Texan Cultures, Hemisfair Campus
Level up your career with a graduate business degree from the UTSA College of Business. Join us for this Open House to learn which of our 13 degree programs is right for you.
Business Building (BB 2.06.04), Main Campus
---