Hundreds of UTSA students benefit from Roadrunner Pantry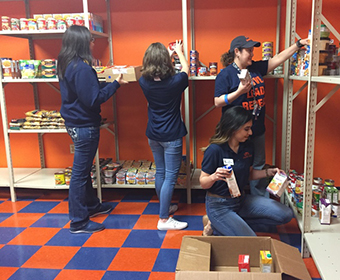 (April 13, 2017) -- A month ago, UTSA opened the Roadrunner Pantry to help combat food insecurity among its students. Since that time, it has helped 400 students by providing 1,600 pounds of free food.
"It's been very exciting to see how many students this pantry has touched," said Nikki Lee, senior associate director of events management in the University Center. "We knew there were a lot of students who needed help, but we weren't expecting this many in the first 30 days."
The pantry provides UTSA students with non-perishable foods and other essentials they need to thrive and focus on their studies. Located on the UTSA Main Campus in University Center North (UC 1.04.06), the Roadrunner Pantry is set up like a grocery store. Any UTSA student with a valid UTSA ID can shop for non-perishable foods such as peanut butter, canned vegetables and fruit, pasta, soup and even toiletries, free of charge.
Libby Honsalek, a UTSA sophomore majoring in psychology and Spanish, has received help from the pantry several times.
"The Roadrunner Pantry helps me in my moments of distress and reassures me that if I really need the help, I know exactly where to go," Honsalek said. "It's all taught me that it's okay to ask for help. Being in the heart of campus at the UC, the pantry serves a great purpose because it is easily accessible but also discreet. It's opened my eyes to the joy of giving and receiving."
Honsalek now helps other Roadrunners by telling them about the pantry or picking up food for them.
"Sometimes it is scary admitting you need help for fear of being judged or condemned," said Honsalek. "I try to work as the middle man helping bridge that gap between the need and the solution."
When students shop in the pantry, they're asked to leave a message in a book.
"It's been great to see the student feedback," Lee said. "It's very eye opening."
Student messages include:
"The pantry is really helpful for us students who make just enough to survive."
"This pantry brought me to tears. I can't express my gratitude enough. It's going to get me through the semester."
"I feel like our school really cares."
The Roadrunner Pantry relies on donations from the UTSA community to keep its shelves full. Donations can be dropped off at the Roadrunner Pantry Donation Station in the University Center across from the bookstore. Pantry organizers also encourage donation drives at events or office donation competitions. Lee said students have been asking for oatmeal and cereal, crackers, peanut butter and jelly, and pasta sauce.
-------------------------------
Learn more about the Roadrunner Pantry.
View the pantry's most wanted donations.
Learn more about the UTSA University Center.
Connect with UTSA online at Facebook, Twitter, YouTube, Instagram and LinkedIn.
Events
De-stress during Finals Week with UTSA Libraries' Relaxation Stations, located at John Peace Library on the second floor, and at the Downtown Library. The Relaxation Stations will include puzzles, coloring and more from Dec. 6-Dec. 14.
John Peace Library, second floor and Downtown Library, Main and Downtown Campuses
This UTSA student exhibit features the work of anthropology students who have examined the effects tourism has on local culture.
UTSA Institute of Texan Cultures, Hemisfair Campus
Students from grades 9 to 12 at Brooks Academy of Science and Engineering delved into their family histories and turned their family photos into artworks.
UTSA Institute of Texan Cultures, Hemisfair Campus
The first ceremony begins at 10 a.m. honors graduates from the College of Architecture, Construction and Planning, College of Business, College of Education and Human Development and College of Public Policy.
Alamodome, 100 Montana St., San Antonio
At 4 p.m., the second ceremony will be held to honor graduates from the College of Engineering, College of Liberal and Fine Arts, College of Science and the University College.
Alamodome, 100 Montana St., San Antonio
UTSA's John Nix invites the community to sing "Amazing Grace" and "We Shall Overcome" at 11 a.m. on Martin Luther King Jr. Day. The intent of this nationwide effort is to honor Dr. King's legacy and to spread a sense of community in the United States.    
Locations throughout the United States
The annual event features authentic foods, music, dance, martial arts, shopping, games and entertainment from China, to the Indian Sub-continent, and the island nations of the Pacific. The Festival features two stages, a martial arts demonstration area, children's hands on crafting area, anime activities, bonsai and ikebana displays, mahjong table and more.
UTSA Institute of Texan Cultures, Hemisfair Campus
UTSA Day is an Open House and one of the best ways to see what it is like to be part of the UTSA Family! Schedule a visit the way you want, based on your interests and time. Learn more about the next steps on becoming a Roadrunner!
Various locations, Main Campus
---